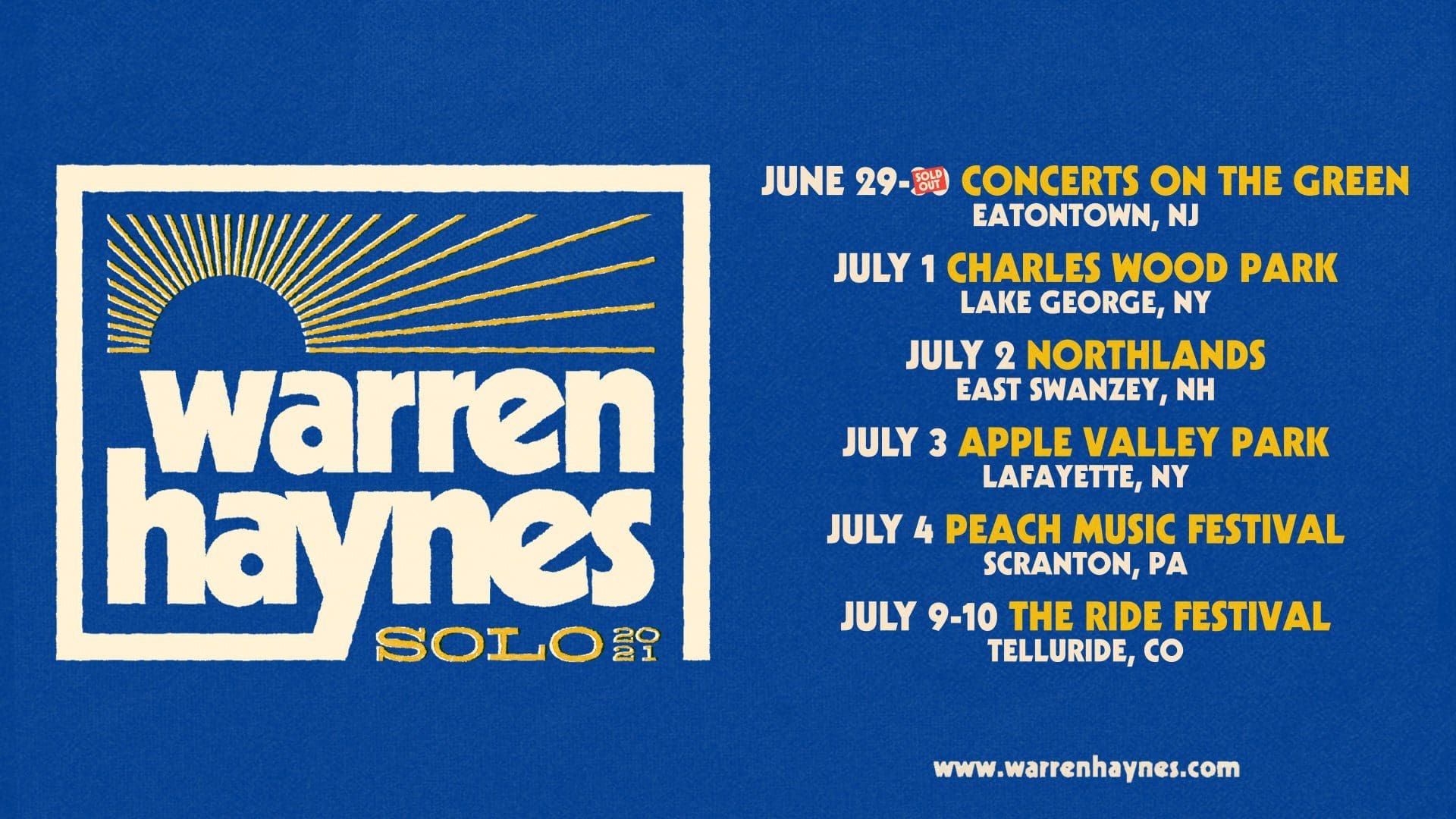 ---
Warren Haynes Solo 2021 June 29 & June 30: Concerts on the Green at Suneagles Golf Course in Eatontown, New Jersey
---
Words and Photos by Matt Heasley | Additional Writing by Bill Bodkin
Warren Haynes, the famed guitarist and frontman for Gov't Mule, performed two spectacular solo shows on June 29 and June 30 at the Suneagles Golf Course in Eatontown, New Jersey. These two shows were a part of The Basie Center for the Arts' (formerly The Count Basie Theatre) Concerts on the Green series — a series of outdoor socially distanced concerts.
The shows, both of which were packed, kicked-off the Warren Haynes solo tour which will see him performing in five different cities over the next week or so — including a stop at the vaunted Peach Festival in Scranton, PA.
The packed shows took place under a massive tent, adhered to all local health advisory regulations with audience members sitting at tables throughout the set. Despite the sweltering heat caused by an early summer heatwave, Warren Haynes performed two nights of amazing, soulful night music. Haynes' voice boomed throughout the venue which had the crowd riveted for his two epic sets filled with Gov't Mule staples, and covers ranging from an incredible covers of The Grateful Dead's "Ship of Fools" and The Allman Brothers "Melissa" during his encores. These performances had a much different and soulful feel than what a Gov't Mule show would have — and that's definitely not a bad thing.
Setlists credit to Setlist.fm
6/29 Setlist:
Set 1:
Old Friend (The Allman Brothers Band song)
Big Muddy
Hope She'll Be Happier (Bill Withers cover)
Back Where I Started (The Derek Trucks Band cover)
Blues Before Sunrise
Beautifully Broken (Gov't Mule song)
Wasted Time (Eagles cover)
The Real Thing (Phil Lesh & Friends song)
Two of a Kind Blues
Set 2:
Patchwork Quilt (Phil Lesh & Friends song)
Captured (Gov't Mule song)
Forsaken Savior (Gov't Mule song)
Company Man
Desdemona
Ship Of Fools
Endless Parade (Gov't Mule song)
Long Distance Call
Encore:
Into the Mystic (Van Morrison cover)
Soulshine (The Allman Brothers Band song)
6/30 Setlist:
Set 1:
Dark Was the Night, Cold Was the Ground (Blind Willie Johnson cover)
I'll Be the One
It Hurts Me Too (Tampa Red cover)
Cyprus Avenue (Van Morrison cover)
One Step Up (Bruce Springsteen cover)
Give Me Love (Give Me Peace on Earth) (George Harrison cover)
Hattiesburg Hustle
Glory Road
Roller Derby Queen (Jim Croce cover)
I Shall Return (Gov't Mule song)
Set 2:
One (U2 cover)
Nobody Knows You When You're Down and Out (Jimmy Cox cover)
A Friend To You
If Heartaches Were Nickels (Kenny Neal cover)
Hello in There (John Prine cover)
Fallen Down (Gov't Mule song)
Death Don't Have No Mercy (Reverend Gary Davis cover)
Fallen Down (Gov't Mule song)
Railroad Boy ([traditional] cover)
Encore:
Southern Accents (Tom Petty and the Heartbreakers cover)
Melissa (The Allman Brothers Band song)