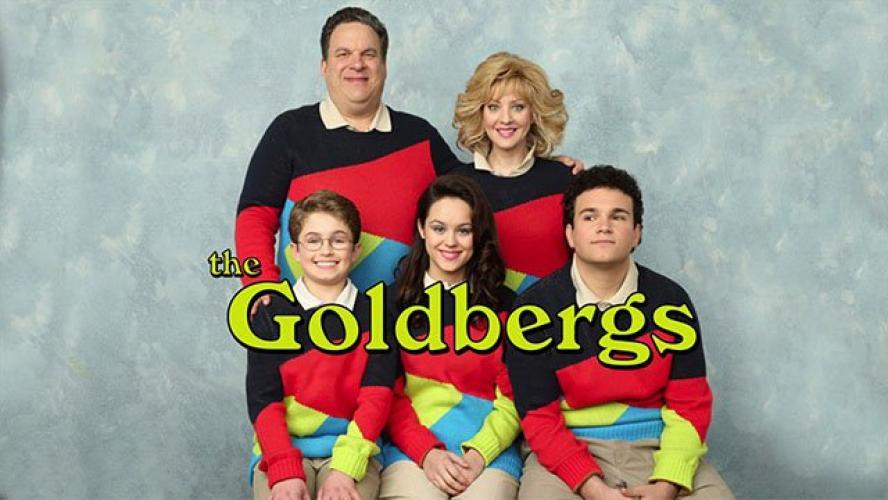 During the three season run of The Goldbergs, Mom Beverly Goldberg (Wendi McLendon-Covey) has shown extreme moments of smotherness before, but in last night's episode, titled "Rush," that characteristic is taken to a whole new hilarious level.
We learn in the beginning of the episode that it is Adam's (Sean Giambrone) birthday, so of course Mama Goldberg is going to capitalize with a party in his honor, which she can't wait to plan. Adam is put off by this, but she insists, even handing him a "Best Son" Oscar Trophy to go along with the movie theme of the party. This gift makes Barry (Troy Gentile) furious, and he calls his mom out, saying Adam's her favorite. He expressions his frustration, attacking his brother, despite the fact that Adam did nothing wrong. To add fuel to the fire, there's a massive picture of Adam over Murray's (Jeff Garlin) and Bev's bed that dwarfs Barry's and Erica's photos. It's a sight gag that just killed me.
Beverly does express that Adam (and his delicious face) is her favorite, but decides to focus on her older son, which means Adam is free to plan his birthday party without being overwhelmed by his mom. However, even though Barry starts getting attention because he is the new favorite, he quickly realizes that the smother factor is too much to bear. On the other side of things, Adam is being bogged down by party planning, and he confesses to Barry that he actually needs his mom. Barry exploits this information, and Adam eventually gives in. The balance returns, and Adam is given an outrageously awesome birthday party all thanks to his mom.
Meanwhile, Erica (Hayley Orrantia) and her pals demonstrate that, in the '80s, a new band was popular every week. Flock of Seagulls, The Cure, you name it; the revolving door of coolness existed. When fellow student Johnny Atkins (Sean Marquette), a Rush-aholic, introduces Erica to his favorite band, she instantly becomes enamored with their music and Johnny. They make out on the spot immediately, so once news of this new relationship makes way to Poppa Goldberg, Murray will have none of it. Despite this, Erica defies her dad and everyone who doesn't want her and Johnny to be together because she just wants to be right. When she tells Johnny she's with him just to prove a point, he bails. Erica makes up with her dad but there's no closure with Atkins, something I didn't expect to happen on this show. I guess maybe they make up in the future sometime?
In any case, "Rush" was a really fun episode, and both story lines showcased interesting dynamics, especially in the Adam-Barry-Beverly situation. We even get a patented Barry run and an Ecto Cooler shout out! All in all, I really enjoyed this episode more than I thought I would, and of course, the music of Rush never hurts.
Rating: 9/10
===========================================================================================================
Logan J. Fowler is a senior writer and video game editor on Pop-Break.com. He contributes his thoughts every week for Trailer Tuesday and ABC's The Goldbergs." Logan's "kid at heart" nature has led to his discussion about pop culture that many geeks love to talk about, including superheroes, Super Mario Bros., Pixar, and Muppets, among other things. In addition, one of his first pieces for the site, "Top Ten Comic Book Movies," was picked as a "Freshly Pressed" piece by WordPress and remains one of the site's most well-read articles. Many of Logan's friends have said that he moonlights as Spider-Man but this is so not true. Wait, are those police sirens I'm hearing?! Gotta go! -thwipp-
=======================================================================================================