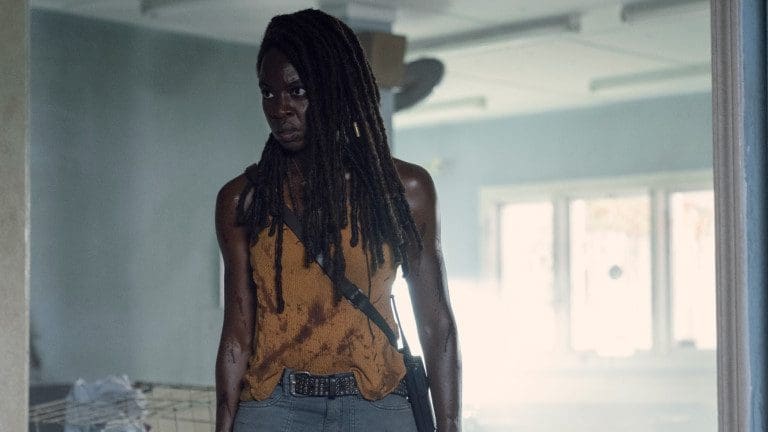 Written by Josh B. Taylor
After one of the best episodes the series last week has seen in a while, it's a shame that The Walking Dead Season 10 Episode 13 followed it up. There were some great moments in it including a proper send off to Michonne (Danai Gurrira), but with only three episodes left, I wish we had one to feel just as incredible as last week's episode.
Virgil (Kevin Carroll, The Leftovers) takes Michonne to the island he calls home, in search for weapons to defend Michonne's family from The Whisperers. However, he double crosses her and locks her away in a room. She begs for him to let her go but she's drugged by Virgil. That's where we see, what started out to be flashbacks of previous seasons, to an alternative timeline of what could of happened if Michonne didn't join the group. We see that instead of helping Andrea (Laurie Holden), she lets her get torn apart by walkers, and eventually joined Negan (Jeffrey Dean Morgan) and the Saviors. She became Negan's next in command and eventually is killed by Darryl (Norman Reedus) and Rick (Andrew Lincoln). I Thought that was an interesting scene, but just unnecessary.
What I did enjoy from last night's episode was that Michonne eventually got out from Virgil's cell, along with three other prisoners that Virgil had in another room. Instead of killing him, they leave the island on the only boat left on that island. She leaves with no weapons, but does have vital information on the potential last known whereabouts of Rick, so now instead of returning back to Alexandria with Judith, her son, and survivors; she is on a mission to find Rick.
Overall, this episode's only purpose was to give Michonne's character the proper send off from the show; since Danai Gurrira was leaving the show. However, it was just a waste of an episode in my opinion, and definitely not the episode that should of followed last week's outstanding episode! I could have honestly just skipped this one, and watched it for when the supposedly Walking Dead movie is released, that is the only time this episode would be good to revisit I feel. With only three episodes left this season, I hope they're as great as last weeks episode and not as lackluster as tonight's episode.
Rating: 2 out of 10
The Walking Dead Season 10 Episode 13 is now streaming on the AMC website.