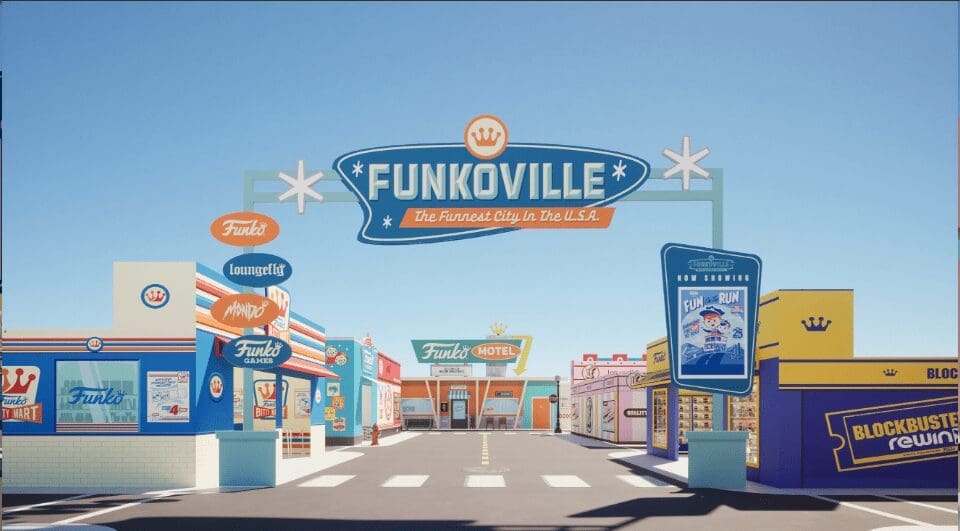 There's something for everyone at Funko's massive Comic Con activation, we mean, attraction.
When San Diego Comic Con attendees make their way through the convention floor this year to Booth 5341, they might just think they have walked into an entirely different convention. 
It's no secret that Funko always has one of the most popular and highly trafficked booths at any convention they are activating at, but their San Diego Comic Con space is always a highlight with some of the most sought after exclusives of the show. 
This year, Funko has expanded into "Funkoville," the massive, neighborhood-like experience that is double their 2022 footprint. Within Funkoville there are different shops that give attendees the chance to purchase exclusives from all of Funko's brands including Funko Games, Loungefly, and Mondo. 
Funko's love of nostalgia is seen throughout the experience, but it's the new Blockbuster Rewind video store, that really allows attendees to time travel to the 90s and relive the experience of visiting their local video store. In the Rewind store, fans can browse and purchase the company's new, innovative collectibles based on iconic films. This throwback experience showcases the first collection of the new VHS-themed collectibles in collaboration with Blockbuster. 
During our press tour, we were guided by Michael Becker, Senior Vice President, Creative & Entertainment at Funko who walked us through Funkoville, showing off all the exclusives and new products at each booth. While visiting Loungefly, SVP's Derrick Baca and Liz DeSilva showed off some of the exclusive fashion items that were flying off the shelves during the convention. One of those items included a limited edition Jurassic Park 30th Anniversary mini backpack that had just sold out for the day within the first two hours of the show floor being open.
Lines were long, but spirits were high and the fun was felt throughout Funkoville, where Mike would stop for every selfie or fist bump from fans of all ages. When speaking to Mike and Funko President Andrew Perlmutter, they reiterated that the fans are what matter most and the reason they are always looking to top themselves each year. With that comes the company's exciting new project, Pop Yourself. Soon fans will be able to create custom pops of themselves for any occasion, creating a unique and personal collectible delivered right to their door. With their ever expanding Funkoville, Fundays, Box of Fun, and now Pop Yourself, it's hard to imagine what they will think of next.