When you think of the Asbury Park music scene visions of Bruce Springsteen dance around our head. And that likely blinds many of us to the fact that the Asbury Park music scene isn't just about four to six-piece rock bands playing power chords and singing about the plight of the working man, woman or non-binary.
No, Asbury Park is a bastion of creativity. It allows for artists to experiment, to think outside the box and most importantly perform the type of music that is true to their essence. Natalie Farrell is one of those artists. The charismatic singer crafts a sound blending R&B, jazz, pop, and rock. Her sound has an undeniable pop sensibility that feels like it's only a matter of time before the right person hears her music and puts her in the position to be the star she seems destined to become.
On Saturday July 29, Natalie Farrell takes the stage at the Asbury Lanes in Asbury Park, New Jersey to celebrate the release of her new EP, Mantra. We caught up with Natalie to discuss what people can expect from the show, the lyrical content for the lead single, being a pop singer in a city known for rock 'n' roll and more.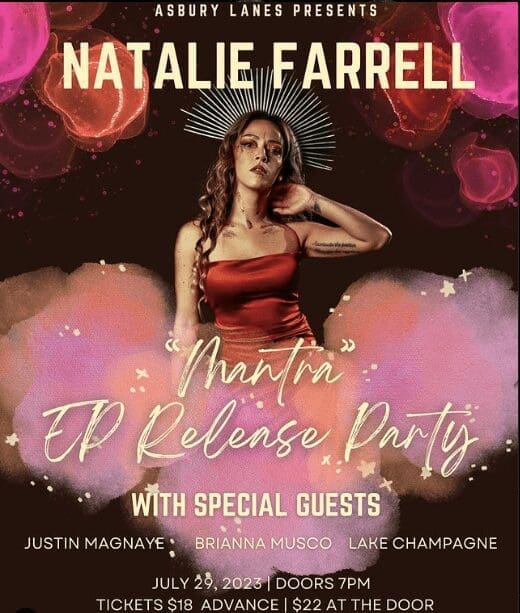 *Year I Started Performing: 2015

I'm Based Out of: Asbury Park, NJ
Members of My Band (Names & Instruments They Play): Matt Fernicola (guitar), Lou Panico (bass), and Joshua Van Ness (drums).
My Sound Has Been Likened To: Amy Winehouse, Dua Lipa, Alanis Morrissette, No Doubt, Halsey, & Hayley Williams.
Famous/Awesome Acts I've Shared the Stage With: George Thorogood, Sammy Hagar, Filmore, & Hailey Knox.
This Saturday you have your release party for MANTRA — can you talk about the show you have prepared for the audience (e.g. stage show, your opening acts, etc.)
Natalie Farrell: I really enjoy creating a fun atmosphere to get the audience excited at my shows. Since the EP is called MANTRA, I've incorporate a theme that represents positive energy, new beginnings, and power. I'm very excited to debut new merch (heavily influenced by the concept) which will include brand new shirts designed by me, along with incense sets, including six different scents to choose from.
The bill is packed with a night of amazing bands. NY artist, Brianna Musco, will be opening up the show with her alt pop sound and a flare of Fletcher energy. Following Brianna is Justin Magnaye, who will be bringing the "East-Meets-West coast" vibe. Lastly, Asbury Park locals, Lake Champagne will be closing out the show with an after party, filling the room with powerful alt, blues, and soul vibes.
I'm most excited to be performing the songs off the EP with my band mates. We have been working towards a performance that will be sure to create a "wow" factor, leaving the audience dancing and singing the songs in their head on repeat.
Can you talk about your live performance — if someone hasn't seen you perform before, what are they in store for?
Natalie Farrell: Performing is my favorite part of what I do. Because of that, I try to strive for a memorable performance every time. I love incorporating eccentric outfits, fun dance choreography, and slight changes in the songs from the original tracks. It keeps things interesting and fun. I'll definitely be taking you on a roller coaster ride filled with unique visual dynamics, intense, but euphoric emotions, and a wild performance enhanced by my amazing band mates who I like to call my "dream team."
"Mantra" is your lead single for the EP can you talk about the lyrics and what inspired them for you personally? And do you hope they inspire people checking it out?
Natalie Farrell: Over the last year, I've really struggled with self-love and embracing who I am. I was too focused on opinions of others, and let my anxiety take over for the longest time.
Something in me just finally said no more. I had enough. I did a complete 180 and started meditating, doing more yoga, planning self-care days, and writing daily affirmations/mantras.
I teamed up with my producer and good friend, Russell Hayden on this EP. He really helped me get the words I wanted to express out and onto paper, and created the pop vibe I've been longing to tap into. We discussed how overworked I had been, but how I never gave up. Between my day job, music and gigs, social life, married life, and self-care, I wanted to express that it's okay to be overwhelmed and take time to heal. We've been taught in this society that if we're not busy or stressed out, we're doing it all wrong. But it's actually the complete opposite. We should take time to remind ourselves that we are more than enough, and that it's okay to feel good about ourselves. Whether it's something as big as chasing your dreams, or as simple as taking the day to pamper yourself, you are the creator of your reality. Do whatever makes you happy, and be unapologetically you.
You've been in the scene for a minute now — can you talk about your journey as both a performer and writer, in particular how you feel this new EP is an evolutionary step in your career?
Natalie Farrell: This journey has been an eye opening, but exciting experience. Ever since I was seven years old, I knew that I wanted to be a singer-songwriter/performer. From my very first talent show to now, I'm beyond grateful for how far I've come. This EP was the exact visual and direction I wanted to take. I love all genres of music, and I think my discography shows that, but I always wanted to take the direction of pop. I was eager to take my dance roots and incorporate them into my music. I'm finally getting that chance to do so. I feel that this direction will continue to elevate my performances, confidence, sound, and help me open more doors to a bigger audience, new collabs, and hopefully take on music full-time.
You specialize in a mix of pop, R&B, and soul — which are not exactly the sonic fabric of the Asbury scene. How has it been navigating booking gigs and getting ahead in a scene that still adheres to the traditional rock band formula?
Natalie Farrell: Honestly, I've had no struggles going into this scene. I think my drive, dedication, work ethic, and connecting with other amazing artists helped me book gigs and get ahead. I also have this music scene to thank for being so supportive and allowing me to build myself from the ground up. They've allowed me to share the stages with them while I was still coming into my own, and I'm very grateful for that.
On the flip side, can you talk about the positives — especially when it comes to writing and collaborating — of not adhering to that formula?
Natalie Farrell: I like that I'm not exactly adhering to the formula. I think it's important to stand out and be your own authentic brand. It makes me feel good to know that I am one of many artists who broke the glass ceiling to create the music scene Asbury Park has become today.
Past this Saturday, what are you most excited for in your musical journey of 2023?
Natalie Farrell: I'm very excited to continue to grow as an artist. I think this show will be a celebration of a very honest version of myself and my music. I intend to take that energy with me going forward, with the hopes of connecting with new fans, going on tour, and opening doors to more exciting opportunities in the near future.
Natalie Farrell performs Saturday night July 29 at Asbury Lanes in Asbury Park, NJ. Click here for tickets.