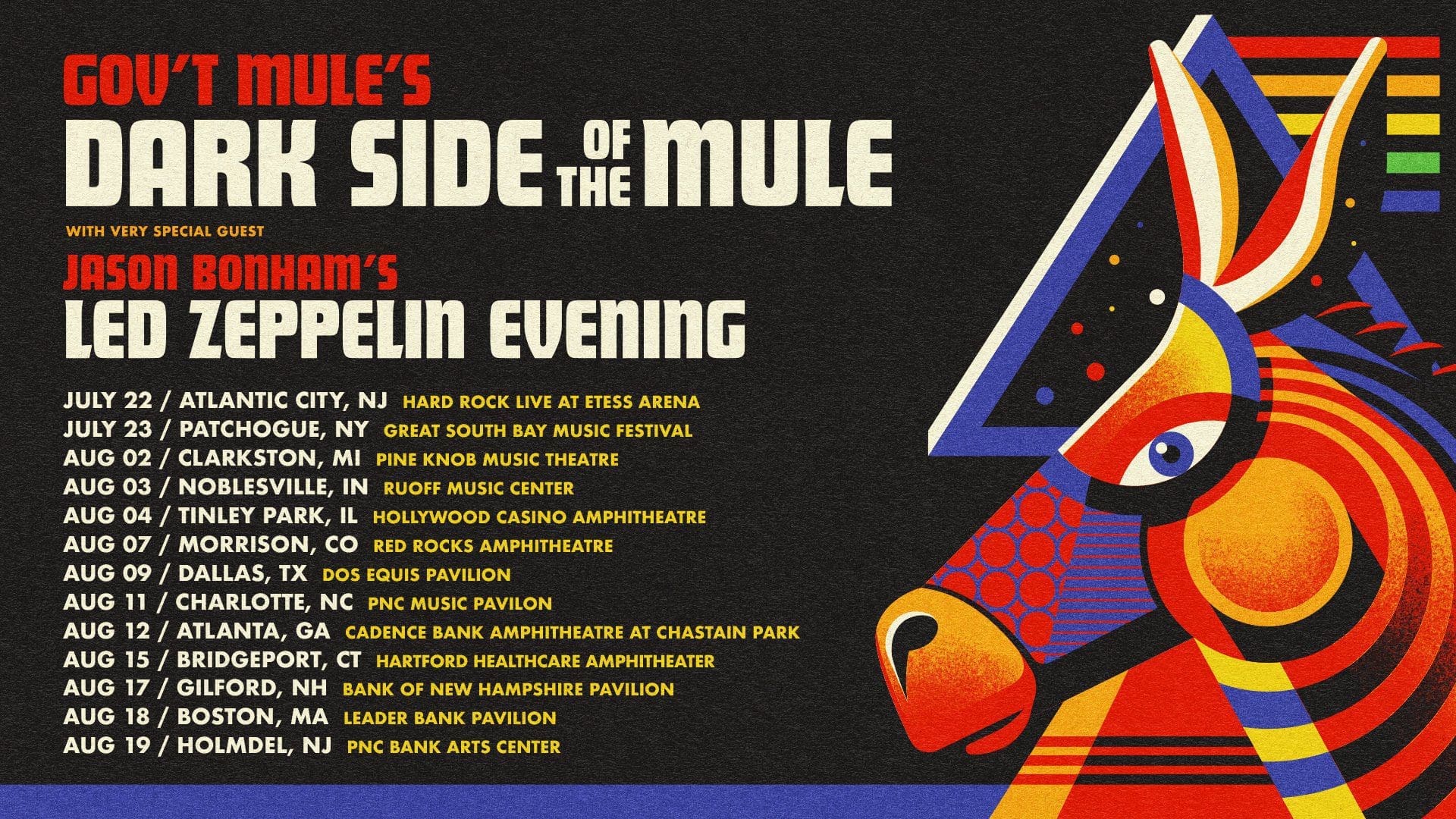 ---
Pop Break Live: Gov't Mule 'Dark Side of the Mule' Tour with Jason Bonham's Led Zeppelin Evening at The PNC Bank Arts Center in Holmdel, NJ on Saturday August 19, 2023
---
It was a hot night of tributes (and original music) at the PNC Bank Arts Center in Holmdel, New Jersey on Saturday night August 19.
Gov't Mule, the seminal guitar-driven blues/jam/classic rock outfit, brought their Dark Side of the Mule show (where they pay homage to Pink Floyd's Dark Side of the Moon throughout their set) to Central Jersey's favorite summer shed.
Opening things up for Mule was another tribute act — Jason Bonham's Led Zeppelin Evening (stylized JBLZE). Bonham, the son of Zeppelin drummer John Bonham, is no stranger to paying homage to his late father's band as he's not only tour with JBLZE since 2009, but he played the original lineup multiple times, with the last time being in 2007.
Jason Bonham's Led Zeppelin Evening Setlist (Via setlist.fm)
Immigrant Song
Good Times Bad Times
The Ocean
Over the Hills and Far Away
Ramble On
What Is and What Should Never Be
Thank You
Black Dog
Misty Mountain Hop
Whole Lotta Love
Rock and Roll
Jason Bonham's Led Zeppelin Evening (JBLZE)
Gov't Mule, fronted the iconic Warren Haynes (check out our interview with Warren from earlier this summer) opened up with a number of Mule staples before tearing into their wondrously bombastic take on the Pink Floyd classics.
Gov't Mule Dark Side of the Mule Setlist (via setlist.fm):
Mule
Painted Silver Light
Game Face
Made My Peace
Same as It Ever Was
After the Storm
Dark Side of The Mule Set:
Pigs on the Wing, Part 2 (Pink Floyd cover Warren Haynes only)
Shine On You Crazy Diamond (Parts I-V)
Have a Cigar
Speak to Me
Breathe (In the Air)
On the Run
Time
Breathe (Reprise)
The Great Gig in the Sky
Money
Us and Them
Any Colour You Like
One of These Days
Fearless
Echoes, Part 2