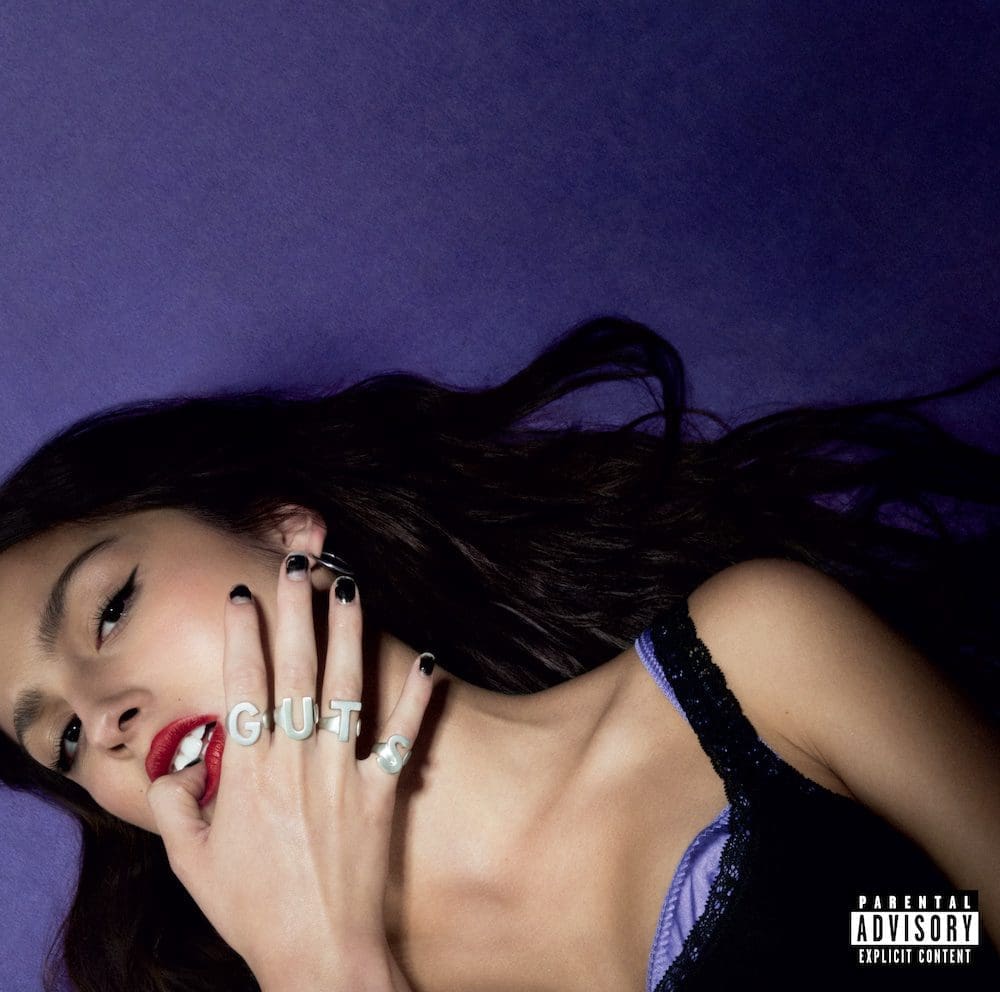 Written by Nynoshka Vazquez Suazo
The release of Olivia Rodrigo's debut album, Sour, in 2021, was followed by a tremendous amount of success and a sold-out stadium world tour. So it was understandable that some (myself included) were concerned that any project that followed wouldn't live up to Sour's success, causing great anticipation for the release of her second album GUTS.
GUTS proves the talent Olivia Rodrigo has, and the talent she has yet to unleash on the world. It creates a new sound moving her career a step forward, while simultaneously paying homage to her first baby, Sour. 
The singles off the album, "vampire" and "bad idea, right?," are the perfect introduction to Olivia's new sound, as they incorporate more of a punk rock vibe, which is prominent throughout the entire album. "bad idea, right?" is one of my favorite tracks off the album and will become an anthem staple in your car. The music video for the song, which stars Tate Mcrae, Iris Apatow, and Madison Hu, is highly re-watchable. Also, everyone in the audience for the "vampire" music video were all impossibly gorgeous! 
GUTS consists of 12 tracks, mixing the genres of pop, singer-songwriter, and punk rock. That being said, GUTS holds links to Sour, such as in the track, "the grudge," whose piano sounds almost identical to the piano in Olivia's hit single "driver's license." We love a good easter egg. 
get him back! has the most nostalgic feelings Picture Hilary Duff walking down the streets of New York on a revenge shopping spree, it is giving an early 200s female lead movie and we're all here for it. 
GUTS holds more than fun-head-rocking-scream-out-your-sunroof energy, the lyrics hold incredible power, and spark necessary conversation such as:
"I know my age and I act like it"

(all-american bitch)

"Every guy I like is gay"

|

"It's social suicide"

(ballad of a homeschooled girl)

"Another thing I forced to be a sign"

|

"Im playing the victim so well in my head"

(making the bed)

"No love is never logical"

(logical)

"I hold on to every detail like my life depends on it"

(the grudge)

"Pretty isn't pretty enough"

(pretty isn't pretty)
As a teen/young adult the smallest things can feel like the end of the world. As someone who is the same age as Olivia, these lyrics are more relatable than others may understand. Additionally, she discusses and includes these topics that may have negative connotations, and rather than glorifying it, highlights it, and shows that everyone is human regardless of social status. 
Let's also acknowledge the bridges in all her songs. A bridge can make or break a song, and Olivia's the queen of an incredible bridge. They always add a new level of emotion, an additional perspective, and a shift in production that adds dimension and variety. 
GUTS lives up to every inch of success Sour gave her. This writer, who has no shame in admitting she knows every song from Olivia's album by heart, will be anxiously waiting for tour dates to drop. (Editor's Note: This review was written before the World Tour announcement was made.)
GUTS by Olivia Rodrigo is available at all your favorite brick and mortar record stores, major retailers and online.