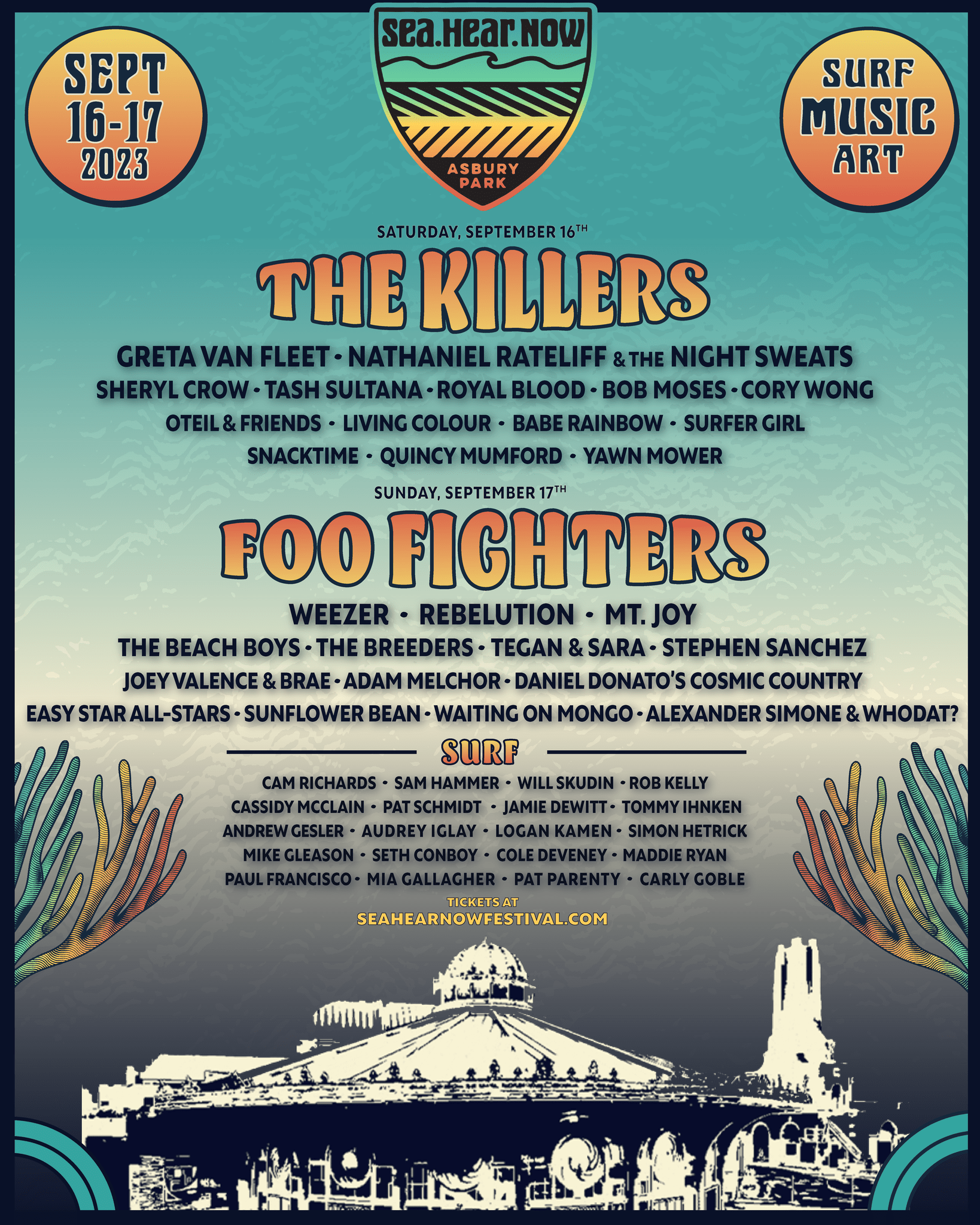 ---
Pop Break Live: Sea.Hear.Now 2023 at The Asbury Park North Beach and Bradley Park in Asbury Park, New Jersey on September 16 and 17, 2023
---
Photos by Jenna Murray | Words by Bill Bodkin
'This is rad A.F.' — Rivers Coumo, lead singer of Weezer.
Sea.Hear.Now 2023, the fifth installation of the Asbury Park-based beachfront celebration of music, art and surf culture, could not be more aptly described.
This year's festival, in spirit, harkened back to the pre-COVID days of the festival and the antithesis of the 2022 installment of the beachfront extravaganza. A palpable energy of musical passion permeated every inch of the festival grounds. Every single stage was buzzing — no matter the act, nor the time of day (even the dreaded pre-3 p.m. "hangover" sets on Sunday). Hardcore, passionate fans of every act were at these stages ready to embrace every sonic sensation that would emanate from the band they were about to watch. In years past, crowds were filled with people curious about a band they never heard (e.g. Orville Peck, St. Paul & The Broken Bones, etc) or people killing time before that one act they want to see hit a specific stage. Not this time, though. People were amped. They were grooving to every song, and singing every word like there was no tomorrow.
In short — Sea Hear Now 2023 was a stark contrast to last year's festival. Last year, things felt different than any SHN before it. The majority of the crowds were only there for the headliners Green Day and Stevie Nicks, and were too busy spilling their White Claws and Coronas on the way to VIP areas instead of actually taking time to discover new music, view any of the art, or even acknowledge the surfing. It was a real bummer for two reasons. First, there were some excellent bands on that lineup (My Morning Jacket, IDLES, Wet Leg). Second, the festival seemed to be reflecting the new attitude of its host city — where it's all about the hip, cool factor of Asbury, and not about what makes Asbury so special (music, art, nature). As Bodhi in Point Break so famously said, "Some people just live to get radical and they don't see the spiritual side of things."
This year, the majority of festival-goers truly did embrace the spiritual side of things. The Transparent Gallery Art Tent became a hot spot for art and music. Stages got packed quicker than ever. And while there were still plenty of tourists heading to the VIP with their Whiteclaws and Coronas, this year's fest felt like it was curated for the locals just as it was those who make a yearly (or one-time) sojourn to the City that Bruce Built.
In short, it was rad AF.
Yet, we'd be disingenuous if we did not talk about the concerns raised by our fellow journalists about the festival — in particular the sound and the crowd. To be completely transparent, none of our staff experienced the sound issues many did during The Beach Boys and Weezer. So, we cannot provide thoughts either way on that issue.
In regards to the crowd size… it's a conundrum, isn't it? On one hand, it did seem like stages packed up a lot quicker than previous years. If you did not get to an artist you wanted to hear about 20 minutes before they started, you were not getting close. The reasons for this could be varied. It was a stacked lineup, so people were going to flock to see the likes of Sheryl Crow and Weezer en masse the same way they packed the beach to see The Killers and The Foo Fighters? Was the width of the beach contracted due to the New England hurricanes? Were the VIP areas extended and cut into the GA crowd? These answers we do not have, however, it's an issue that should be addressed to give all attendees optimal experiences. Given the festival's history, smart money says they do address these issues.
Now let's dive into the performances from the festival…
The Tent: The Danny Clinch Transparent Art Gallery Tent has been a curious site at Sea.Hear.Now. It's had a reputation for local bands and festival performers dropping in for surprise sets. However, this year seemed a lot different. It felt more like a destination as Cory Wong of Vulpeck and Nathaniel Rateliff made surprise visits and blew the packed tent away with bombastic jams and soulful anthems respectively. To make things even bigger Mike Love and Bruce Johnston of The Beach Boys — fresh off their set — hopped on stage to promote a giveaway for a signed surfboard to benefit the Surfrider Foundation. Mike Love dropping some cuss words, while having a Beach Boys-themed adult beverage was definitely one of those "wasn't on the bingo card for 2023" moments.
The Park Stage: The Park Stage has emerged as one our favorite stages as it often features unexpectedly amazing performances from artists we've heard of but have never fully dug deeply into. Here are our thoughts from the performances we caught at the Park Stage…
Yawn Mower (Saturday): If there's a band that represents Asbury Park that you want playing to give all those online to get a taste of this scene — it's Yawn Mower. This act was more than just Mike Chick and Biff Swenson though — it also included Dana Why and Pamela Flores — who both added their own unique style to an already eclectic and fun band.
Babe Rainbow (Saturday): Babe Rainbow, like other early afternoon acts throughout the weekend, help set a definite mood for the festival. It was a very chill, psychedelic set and the lads from Australia were having the time of their lives which featured their lead singer professing his love for Sheryl Crow.
Tash Sultana (Saturday): Holy. God. The hype on Tash Sultana has been around for years, and within the Asbury scene ever since she headlined the Summer Stage, she's been one of those artists people just cannot stop talking about. And we discovered why. This one-woman army creates a self-made symphony with every song. Literally singing, playing drums, guitars, keys, a full production rig and even saxophone, Tash does it all and creates such groove-laden work that you cannot help but just let yourself succumb to the atmosphere she creates.
Nathaniel Rateliff & The Night Sweats (Saturday): Forget literally everything you've heard or read about this band. You've heard the songs on the radio or on streaming platforms or commercials? Cool. None of that does justice to seeing Nathaniel Rateliff live. His enormous band — complete with a fat horn section — can only be matched by his enormous showmanship. Channeling the late Joe Cocker, Rateliff wailed and crooned with such effortless charisma that the gigantic audience that gathered to see him (easily the largest Park Stage crowd we've ever seen, even more than My Morning Jacket or Billy Strings), and did not budge to get a spot for The Killers. He had the crowd eating out of the palm of his band. And those singles you heard commercially? They pale in comparison to his live renditions.
Easy Star All-Stars (Sunday):
A long time ago, at a Jersey Shore not so far away, The Easy Star All-Stars were staples at the now defunct Joey Harrison's Surf Club in Ortley Beach where they'd play their Pink Floyd inspired Dub Side of the Moon record. Easy Star's "hangover Sunday" session was filled with fat basslines and soaring vocals with covers of Michael Jackson (from their Thrillah record), The Beatles (off Lonely Hearts Dub Band) and David Bowie (off Ziggy Stardub). It was a perfect, beachy vibe and if you commune with Jah and his medicinal ways — my friend this set was lit.
Mt. Joy: Lead singer Matt Quinn beamed with pride as he took the stage. He commented that being a Philly native, performing at this festival meant a lot to him. He then broke into all the band's major hit "Lemon Tree" and he had the crowd singing and swaying for the rest of the set.
Sand Stage: The Sand Stage is the stage where the biggest surprises come along. It's a stage where bands like St. Paul & The Broken Bones, The Little Mermen, The Struts, Marcus King and so many others have stepped onto the stage and blown audiences away, and been the most talked-about bands of the festival.
Snacktime (Saturday): Sadly, only caught one song from the Philadelphia-based party band. Yet, their bombastic set reminded us of when we caught the tail-end of The Marcus King Band's set in 2019 — we heard just a taste of what they had to offer, but we're dying to hear more. This band is wildly fun, and let's hope their trips to Asbury are a bit more frequent.
Royal Blood (Saturday): Hard and heavy music has always had a place at SHN. Whether it was Dropkick Murphys, Bad Religion or IDLES, the heavy has a place on the beach. Royal Blood, a personal all-time favorite, came in and blew away the crowd with their bombastic one-two guitar and drum punch right in the jaw. The band opened things with their massive debut anthem "Into the Black" before launching into cuts from their latest release, Back to the Water. If you have not listened to this band or seen them live — run, don't walk to correct this.
Living Colour (Saturday): So many people saw Living Colour on the poster and were like "Really? Living Colour?" Those people were obviously not amongst the sea of people jammed at the Sand Stage to listen to this band absolutely kill it. At point, they did a medley celebrating 50 years of hip-hop, and literally everyone on the sand and boardwalk — including security — was dancing with no a care in the world. The power of music, everyone.
Joey Valence & Brae (Sunday): A wild choice for Sea.Hear.Now. The festival is not known for hip-hop and rap as a main act (as mentioned with Living Colour it comes as a medley, one-off, or a guest spot), and to have a duo that got famous on the internet show up and perform … seems a bit of a choice for the beachfront fest. With all that said, these Pennsylvania-born boys are absolutely must-listen — especially if you're a Beastie Boys fan. They evoke that wild, free wheeling, unhinged energy of early day Beasties mixed with a bit of late '90s nostalgia. Definitely keep these guys on your radar, as they're about to get huge.
The Breeders: The Breeders, fronted by Kim Deal of The Pixies, battled the wind and fog to deliver a ferociously sonic set. One of the wildest things was seeing how their iconic hit "Cannonball" is played live — complete with multiple microphones, distortion pedals and the same undeniable charisma that made them stars of the grunge scene.
Surf Stage: The grand daddy of them all. This stage hosts all the headliners, and also is home to some of this writer's personal favorite SHN sets throughout the years like The B52's, The Avett Brothers, Orville Peck, Dispatch and Gary Clark Jr.
Surfer Girl (Saturday): Like Babe Rainbow in the Park Stage, Surfer Girl provided an inviting, chill vibe for the festival. With the cool breeze coming off the Atlantic, the band's beach-y vibe made things perfect for a stage dubbed "Surf." Also, if the vocals sounded familiar it's because the band is fronted by Carter Reeves formerly of Aer.
Oteil & Friends (Saturday): The almighty bass of Oteil Burridge graced the Surf Stage to send us into the ether with some psychedelic jammy goodness. The bassist known for his days in The Allman Brothers Band and Dead & Company absolutely killed it. His cover of The Allman's "Whipping Post" was such a soul-stirring moment, that even across the beach you could feel every note and bit of emotion.
Greta Van Fleet (Saturday): Absolute rock stars. Many have written off Greta Van Fleet as mere Zeppelin knock-offs. Those people have never experienced the band live. The sheer grandiosity of their stage show (complete with pyrotechnics) is something from a bygone era and it was an absolute delight to behold. Vocally, lead singer Josh Kiszka is so effortless with his wailing, Robert Plant tinged vocals, it's almost not real. Like how can this guy do that, that easily? His twin brother Jake, is no different, especially when it comes to the guitar gymnastics he performs with each epic solo he unleashes. This band is really something else, and who knew they'd have such a large, vocal young audience?
Sunflower Bean (Sunday): The New York-based trio of Julia Cumming, Olive Faber and Nick Kivlen were in the dreaded early Sunday spot. However, like Surfer Girl and Babe Rainbow, Sunflower Bean gave this resplendently chill performance that you made you feel everything was alright in the world.
Daniel Donato's Cosmic Country (Sunday): Mark these words — Daniel Donato's Cosmic County is the next big band in the jam world. Their wild blend of classic rock and alt country sprinkled with the pixie dust of the ever-evolving nebulous jam band genre, is captivating as all hell. Their sound should not make sense, but when you hear this band really get into the groove, you just get it. It all makes sense and you can't help but find yourself engrossed in everything they're doing. Huge things are coming for this band as their stock is definitely on the rise (and in a hurry).
The Beach Boys (Sunday): What an absolute treat. The Beach Boys are not young, and only Mike Love and Bruce Johnston are the only OG Beach Boys left in the band. So, you'd think, "Meh, they're going to okay at best. This is going to be like a Beach Boys tribute band." NOPE. The Beach Boys, complete with JOHN BY GOD STAMOS, came out and decided to unleash heavenly surf vibes and good ol' American rock 'n' roll on a multi-generational crowd that was eating their set up like Sunday brunch. All the classics like 'Surfin' Safari' were brought out like a fine wine from the cellar and served to the guests to their uninhibited delight. Oh, and John Stamos is an absolute showman — playing guitar, drums and hype man throughout.
Weezer (Sunday): Anecdotally, this was the first time yours truly had ever seen Weezer, and while my relationship with their newer stuff isn't strong, they were absolutely phenomenal. Rivers Cuomo shuffled onto the stage in all his nerd dad glory and reminded everyone that he is an absolute rockstar. His shy charisma and unexpected Van Halen-esque shredding captivated the audience of those who had just been swept away in the surf sounds of The Beach Boys. Classics like "My Name is Jonas," "The Good Life," "Sweater Song (Undone)" combined with bigger hits like "Beverly Hills" and "Pork and Beans" were just unbelievable live. Weezer could have easily been a Night 1 headliner for Sea.Hear.Now, and while the fest doesn't do repeat bookings, I'd love to see them back next year … and the year after … and the year after.