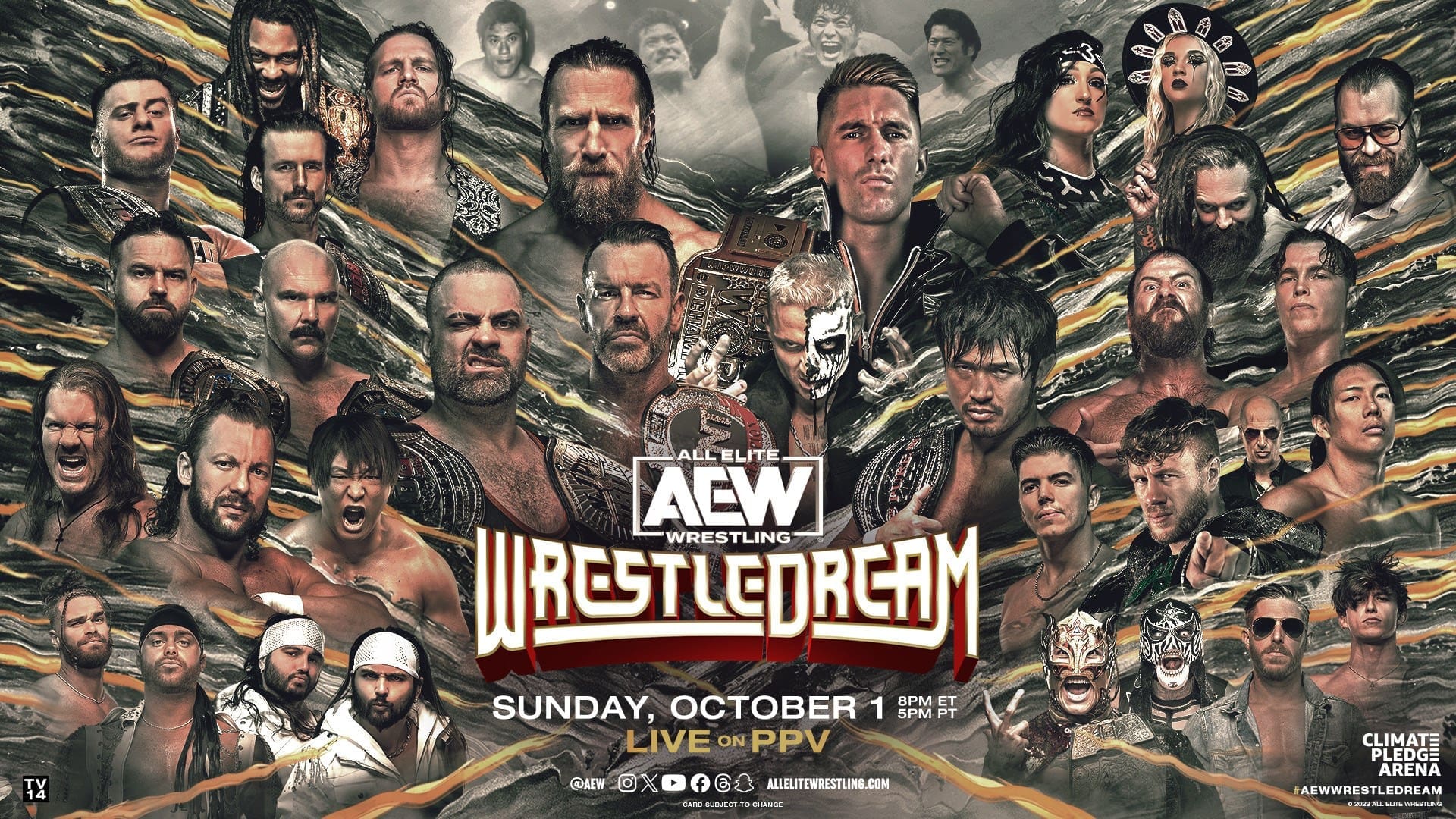 AEW WrestleDream is in the books! 
As expected, some Match of the Year Candidates, and a huge AEW debut. Let's get right to the good stuff. In the obvious choice for the 2023 Match of the Year, Bryan Danielson defeated Zack Sabre Jr. in one hell of a wrestling clinic. This was a pure wrestling match if I have ever seen one. This calls back to old school days of outmaneuvering, out-thinking, out-smarting, and plain ol' trying to stay one step ahead. Each one weakened the other's limbs, and a few scary moments occurred to me, and I imagine fans watching live and at home thinking someone might not walk away without severe damage. Two best technical ring veterans in the world? Yes. Yes they are. 
Swerve Strickland and "Hangman" Adam Page put on an unexpectedly fantastic match. Swerve, the hometown favorite, really shined against AEW's franchise player in Adam Page, who for tonight so far, embraced the role of heel. So many too-close-to-call moments kept fans guessing throughout the contest. In the end, Swerve picks up the hard-fought victory. 
We got the debut most expected, but might not have been 100% certain of, Adam Copeland in AEW, and yes, even with "Metalingus "still his entrance theme. Earlier in the match, Nick Wayne turned on Darby Alliin (and apparently his own mother!) which allowed Christian to get the win. Even with Sting attempting to save Allin, Luchasaurus arrived to overpower the babyfaces. The timely arrival of Copeland stopped everyone in their tracks, and for a moment things were a bit shaky, until he revealed his intentions by destroying Wayne with a chair and spear. 
I was skeptical at first, but I think I am going to like Adam Copeland in AEW for now. 
Here goes the rest of the show:
The pre-show kicked off with a tribute to Antonio Inoki, flanked by Rocky Romero, Katsuyori Shibata, and members of the Inoki Family. 
Keith Lee, Satoshi Kojima, Billie Starks, and Athena defeating Lee Moriarty, Shane Taylor, Diamante, and Mercedes Martinez in a fun opener to liven up the crowd. 
Claudio Castignoli defeated Josh Barnett in a hard-hitting bout. Mox was likely the intended opponent for Barnett until the ill-time injury. 
Luchasaurus squashed Nick Wayne
The Acclaimed and Daddy Ass retained the Trios Titles against TMDK. 
The main show opens with uber-babyface MJF defeating The Righteous in a handicap match for the Ring of Honor Tag Team Championships. Not exactly a wrestling contest, but more of MJF hyping up the notion of body slamming big Dutch. Spoiler alert, he does. Fun opener, MJF doing babyface comedy while the Righteous played the tougher, mean, bad guy roles. 
In one of my picks for 2023 Match of the Year, Eddie Kingston retains both the NJPW Strong Openweight Championship and the Ring of Honor World Heavyweight Championship against Katsuyori Shibata. The entrances alone gave me chills. Eddie and Shibata put on the match we wanted and expected. Hard hitting, pure toughness. Eddie's facial expression, whether on offense or defense, tells the in-ring story we love to see. Shibata is a menace. It was fairly convincing to say they legitimately appeared to unload all they had on each other. Eddie once again with the falling powerbomb, Kawada-style, for the pinfall win. True showing of respect afterwards, Eddie leaving the ring, signaling production to hit Shibata's music and along with the live crowd, giving him a standing ovation. 
Kris Statlander retains the TBS Championship against Julia Hart
Going in, it seemed a stretch that Hart would win. It had been apparent for weeks she was being built as the next challenger, but in truth, each match, whether once, twice, three times a week, Julia fast-improved and her skills as an in-ring performer increased quite a bit. There were a few moments I believed Hart could win, and that speaks volumes. 
The Young Bucks defeated Lucha Brothers, Gunns, and Hook/Orange Cassidy to become Number One Contenders to the AEW Tag Team Championships
Another fun match, fast-paced, with all four teams picking their spots. Fenix appeared to be removed from the match early on. One has to wonder if he is legitimately injured. Hook fit right in. I was surprised to see the Bucks get the win, being they are already ROH Six-Man Tag Champions, but this will likely lead to a final showdown between them and FTR. 
Ricky Starks defeated Wheeler Yuta  in a match which was a lot better than anticipated. Yuta still has the young fire going for him, which goes very well with Starks rising as more than just a flamboyant wrestler. Starks and Yuta appeared to deliver a lot of stiff shots and escalating moves to be bigger and bigger until Starks managed to out-smart Yuta, with some minor help from Big Bill for the win. Jon Moxley's commentary was hysterical, especially when he was making fun of Bill. He even riffed on himself for being fined for cursing too much earlier in the show. It appears Starks wanted to work his way through the Blackpool Combat Club to gain more respect. 
The Don Callis Family defeated Chris Jericho, Kenny Omega, and Kota Ibushi when Sammy Guevara pinned Jericho.
A fun match. This came right after the incredible MOTY by Danielson and Zack Sabre Jr., and yet managed to continue the hot streak this pay-per-view has been on. A wide variety of wrestling and high risk action. Maybe a little too high-risk as Sammy had a scary moment which could have ended badly. It's fairly clear we want to see Ibushi vs. Takeshita in the near future. They had a few moments together, enough to plant the seeds for what could be an incredible feud. Thanks to interference from Callis, the heels stole the win. 
I did not mind the heels winning, as this is a storyline which can be drawn out in multiple ways. As long as we inevitably get Ibushi and Takeshita in a ring. 
FTR retain the AEW World Tag Team Championships against Aussie Open
Somehow, another fantastic match, despite being in the awkward position to be next-to-last on the card, following two consecutive stellar bouts. Mark Davis is a monster, another guy who used facial expressions to add so much flavor to an already intense match. Solid combination of hard-striking, hard-powerboming, and hard-slams throughout. FTR hitting a Super Shatter Machine for the win. I hope this won't be their only contest. I would like to see them go one more time. 
Christian Cage defeated Darby Allin in a Best 2-out-of-3 Falls Match
We've already covered the big debut of Adam Copeland, so I'll briefly cover the match highlights. Darby gains the first fall fairly quickly by using Cage's turtleneck against him, pulling it over his head to roll up for a pin. Match later on, Christian throws an extremely battered Allin from the ring apron onto the corners of the steel ring stairs, bodyslam style to gain a countout fall. The final fall came after a frog splash while Darby was stuck on a stretcher, then a heated exchange on a partially disassembled ring where Cage ripped up all the protective padding from the ring. Nick Wayne appeared to come to the aid of Darby, but instead took the TNT belt and clocked his former friend with it, allowing Christian to win. 
Again, chaos ensues with Nick Wayne's mother visibly upset as her son, Luchasaurus, and Christian Cage put the hurt on both Allin and Sting until Adam Copeland arrives. It was announced during the AEW Media Scrum Luchasaurus will be Copeland's first opponent in two weeks, on October 10th. 
I will also point out, the visual of Copeland and Sting shaking hands gave me a little bit of the chills. There is a moment I never had on any bingo card. 
WrestleDream was a fantastic PPV event. I am truly giving this one an A. Every match felt different, variety, and best of all, no pointless bloodshed. Each match felt important, felt special, and felt to have purpose. Kingston/Shibata and Danielson/Sabre Jr. tie for the most passion and heart. Swerve/Hangman, the Golden Jets Lovers/Callis family, FTR/Aussie Open all showed unique fight and skill. Christian and Darby had the suspense of anticipation. The other matches all brought something which kept fans in the arena and at home on the edge of their seats. 
Pun, possibly intended. 
WrestleDream is now streaming on BRLive.