Two years ago, Leila Grey was like many independent professional wrestlers — working on her craft on the independent circuit while also getting a few chances as an enhancement talent on All Elite Wrestling's YouTube series, AEW Dark.
What a difference two years makes.
Grey is now a full-time member of the AEW roster, had a long television angle as one of Jade Cargill's "baddies" and is featured prominently in Netflix's critically-acclaimed docuseries, Wrestlers — a series that captured her engagement for the world to see. 
You were recently on the hit Netflix Show Wrestlers, how did you find out about your involvement with the show?
Leila Grey: I found out about my involvement after I moved to Louisville, Kentucky to train at Ohio Valley Wrestling (OVW). We got here and we heard people talking about a reality show, but we didn't take it too seriously and it had no reason to do with our move to Kentucky. Then we found out it was for Netflix and I was like, oh hell yeah! 
You were also on the poster for the show, how cool was that?
Leila Grey: That was a big surprise to me because it wasn't the first [version] of the cover. The night the show aired a lot of us from OVW came together to watch and all of a sudden I was the cover up there. I was like, "Oh my god!" I got so many texts from friends and family and people sharing it, it was so cool. 
What was it like being on a Netflix show?
Leila Grey: My experience was positive. We did a summer tour so we got to travel a lot. Mostly locally, but we still got to go to nearby states. We did so many shows. We hustled our ass off this summer. For it to be all captured on Netflix and to be able to tell our story was wonderful and my engagement is forever immortalized on the Netflix platform and that is just the coolest thing that could have happened on the show.
Speaking of the engagement [to fellow OVW wrestler Luke Curtis], did you have any idea he was going to pop the question?

Leila Grey: It was a total surprise, I had no idea. We had just finished wrestling a match, it was an all-women's battle royal. I was the winner and they were telling me to celebrate on all four corners and I was like that's weird they never tell me to do that. I was looking over my shoulder and they were playing Luke's music and I was like what is going on? At that time I was the face of the company and he was a bad guy in the company, people hated him and it was so confusing we were all like what is happening? Next thing I know he grabs a microphone and starts cutting a promo and I am like what is this about he starts saying nice things about me and he gets on one knee and I say to myself holy crap this is happening.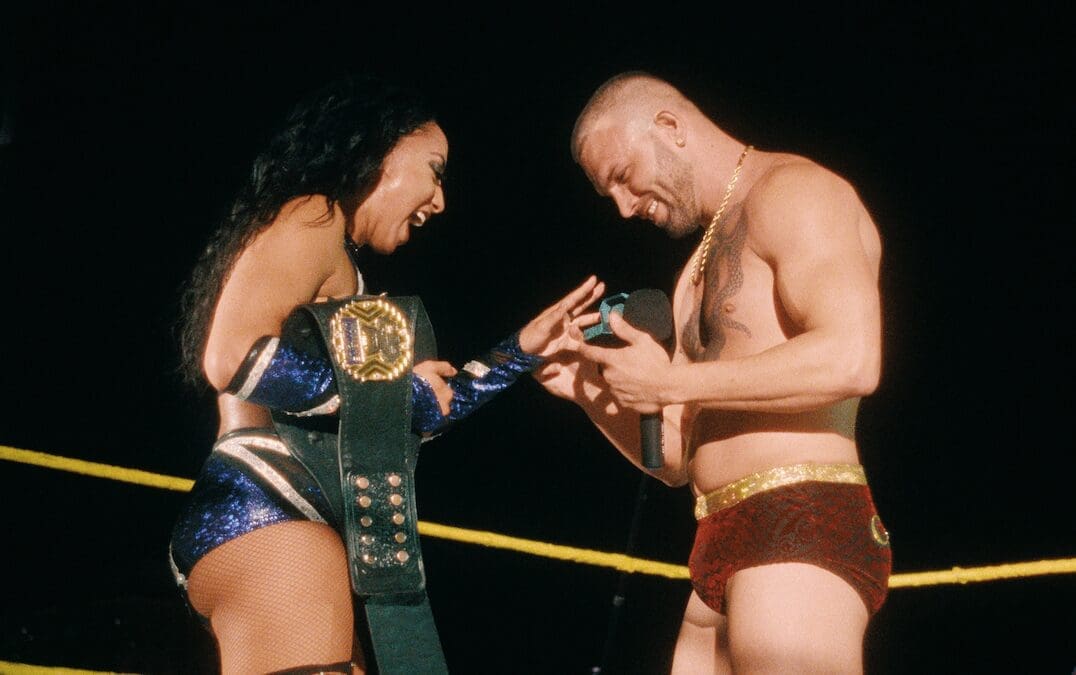 There's so much excitement going on there's going to be a wedding soon Leila!
Leila Grey: Yes, there is so much excitement going on and so much craziness. Sometimes it is hard to grasp what is happening and it is hard to believe that this is real. Yes, we are looking forward to a wedding and we are hopefully looking forward to a Season 2 of Wrestlers on Netflix and you never know you may get a wedding on there. I think that would be my ultimate goal.
I think that should be the Season 2 finale, I'll put that into the universe
Leila Grey: It should I 100% agree.
What are your feelings on Jade Cargill going to WWE?
Leila Grey: I am very happy for Jade. I think that is a great step up in her career and I am excited to see where she goes. I got to talk to her briefly the other day. She contacted me and congratulated me on the show and that she watched the show on Netflix in support of me and I congratulated her as well. I wished her the best and I know she is going to be a megastar in the WWE. I thanked her for our time working together because working with her was a great experience for me and it was an important moment in my career and it is something I will never forget. I owe a lot to Jade Cargill.
You have been featured on Ring of Honor more recently, do you have Athena in your sights?
Leila Grey: I agree that Athena does need some challengers because she has been holding that title way too long in my opinion. I feel like people have not seen too much of me especially now that I am on my own so I just have to sneak up on there and just hit them when no one is looking and no one is expecting me, that is when I get them.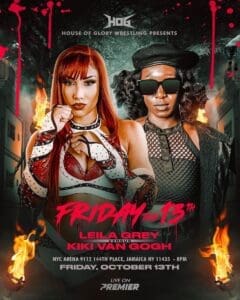 You are making your House Of Glory debut in two weeks in your hometown. How excited are you?
Leila Grey: I am so excited, House of Glory has been at the top of my list for quite some time now. I feel like there was a reason that it did not happen before and it is happening now because now I am ready. Leila Grey is ready to come to Queens, New York, my hometown, and put on the match of her life. I am so excited to be wrestling in my hometown and then House of Glory on top of that, it's a dream come true. So if you haven't gotten tickets yet go get tickets to see me.
So why the change in hair from black to red?
Leila Grey: I was just feeling a little rebellious and just looking for a change. I felt like this was the next step in Leila Grey evolving into a different woman. There are a lot of things that have happened this past year and you know as women when we go through stuff we always have to change our hair. It is like shedding old skin so I feel like red hair Leila. This is just part of the evolution and the growth. I am having a lot of fun with it and I don't change my hair often. Now I have been going kind of crazy thinking about what to do next. 
It's almost like where do I go from here?
Leila Grey: Exactly, because I never really had the balls to do anything with my hair and I have always kept its natural color so this was very bold and out there for me. Now that I took this leap of faith I'm like what's next? Pink hair, purple hair, green hair, let's see. I am going through a phase guys.
At the end of Wrestlers you announce that you are officially All Elite, how did that come about?
Leila Grey: So the show Wrestlers was filmed last summer and we were in the middle of doing this OVW summer tour and we were super busy wrestling four to five days a week. At this time I wasn't working too much on AEW Dark so hearing from them was the last thing I expected. I was just waking up from my afternoon nap. You know I love taking my afternoon nap sometimes.  So, I saw this text message and it was someone from the office at AEW and they are like hey do you have a second has anyone reached out to you yet? I woke up and I was like wait, what, no no one has reached out to me, reached out to me for what? 
That is when I heard the news that they had something for me and they wanted me to fly the next day and have a match with Jade Cargill at Blood and Guts and they wanted me to be one of the baddies along with the other girls. Man, I was so excited and scared I did not know what to think. Everything happened so fast that I did not have any time to process it. They told me that they had a role for me and on the show when I announced that to Al [Snow] that is when I got my first contract, which is what I call my baddie contract. That was my first contract with AEW and I felt like I was on top of the world. All the hard work that I was putting in was finally paying off and I am being seen and recognized for my work now I am going to be highlighted on this platform, it was just the best thing ever. Now fast forward to one year later this past summer I officially signed full-time to All Elite Wrestling.
Leila Grey can be seen on Wrestlers on Netflix, on Ring of Honor, and All Elite Wrestling. Follow her on all forms of social media.