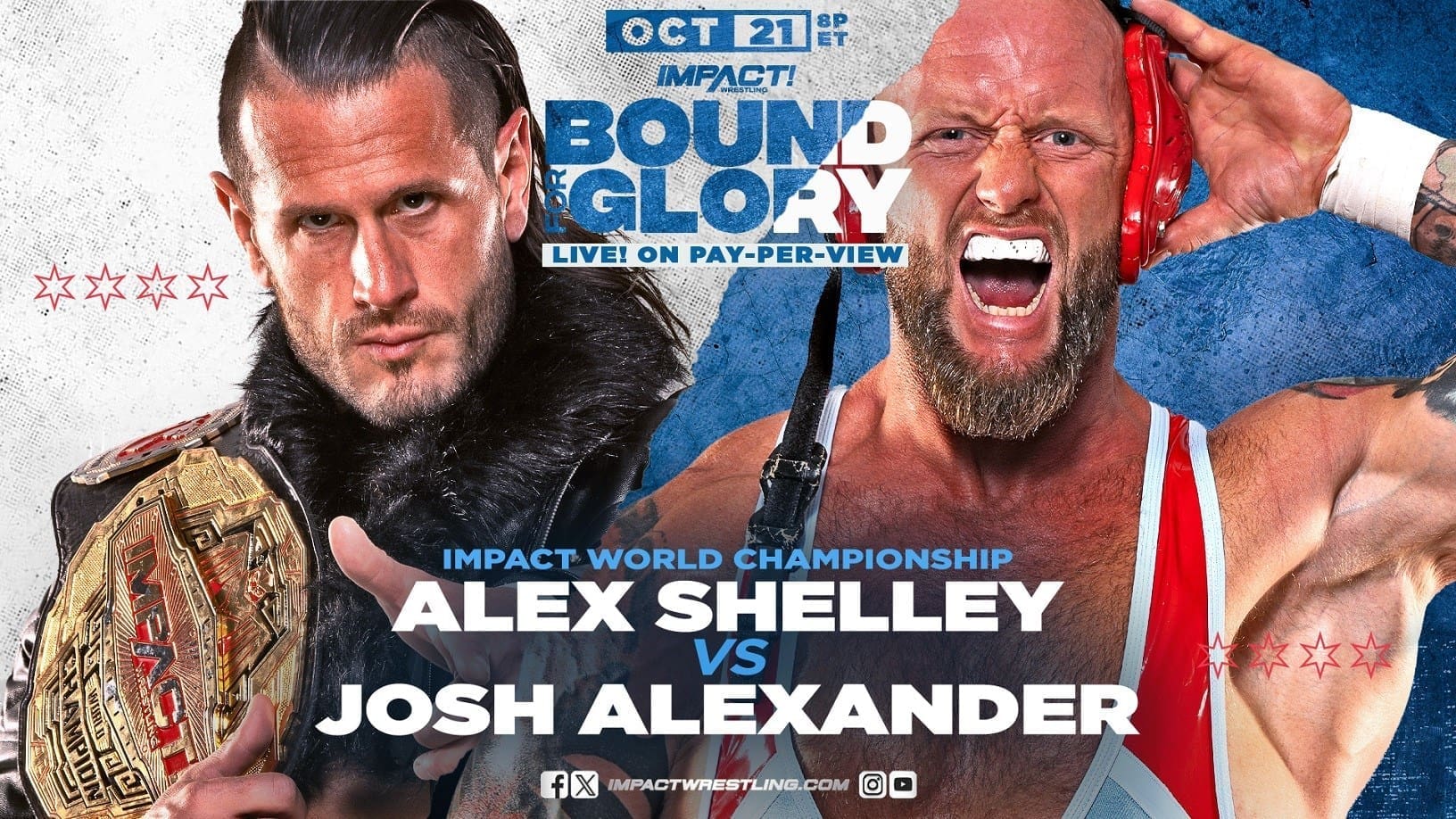 There was a lot of hype behind this year's Bound For Glory. Between a potential CM Punk appearance, other shocking surprises, and a dream match, most wrestling fans were excited for Impact's biggest show of the year. With seven matches on the card and an announcement at the end to send the original Impact fans home happy here is my Bound for Glory review.
X Division Championship Match: Chris Sabin vs Kenta: What a great way to kick off the show. With the announcement that happened later on in the night as well as who won the main event, Sabin retaining made the most sense. Towards the end of the match, Kenta played with the crowd as he tried to go for the GTS then flipped off the crowd. Fantastic match by both competitors as Sabin continued his historic 10-time X-Division title reign.
Winner: "And Still" Chris Sabin
Monster Ball: Moose vs PCO vs Steve Maclin vs Rhino: All four of these men's reactions to seeing light for the first time in 24 hours were hilarious. We started this match right away as Moose and Maclin interrupted Rhino's entrance and started using weapons upon weapons, in classic Monster Ball form of course. The best part of this match was honestly Matthew Rehwoldt on commentary, his saying that the thumbtacks on cinderblocks and a table with barbwire are not shocking to him was great. Especially when he says that this match was a therapist's dream. This match was everything you expected, hard-hitting, weapons galore, and chaos. Bully Ray costs Maclin the match to continue their feud as PCO picks up the win, and it was also announced this week that he resigned with Impact!
Winner: PCO
Impact Tag Team Championship: The Rascalz (Trey Miguel and Zachary Wentz) vs ABC (Chris Bey and Ace Austin): Great back and forth between two tag teams that are definitely the face of the Impact tag division. Both teams were hungry and had a vengeance to prove why they are the best tag team in Impact and they both proved that in this match. The match ended with Wentz accidentally spraying the spray pain in Miguel's eyes which led to ABC taking advantage of the situation and taking back the Impact Tag Team Championships.
Winners: "And New" ABC (Chris Bey and Ace Austin)
Will Ospreay vs "Speedball" Mike Bailey: For those who do not know this match was supposed to take place at Multiverse United 1 in Los Angeles before Ospreay got injured. This match lived up to all the hype and earned itself a potential match-of-the-year candidate. The fans were so into this match-up that they continued to chant both these guys because they could not choose a winner. Both these men are the future of the professional wrestling business and they showed that in this match. Osprey paying homage to AJ Styles with the Styles Clash was a classic. Go watch this one you will not be disappointed.
Winner: Will Osprey
Call Your Shot Battle Royal: Juventud Guerrera, Matt Cardona, and Sonny Kiss were the three biggest surprises in this match nice to see them at the biggest show for Impact. It was also announced that Kiss will be a regular in Impact going forward and I can not think of a better company to have her in. Crazy Steve also interrupted the match trying to get revenge on Johnny Swinger, which made Giselle Shaw very angry as the security guards had to interrupt her entrance to get Steve out of the match. The dance-off between Bully Ray and Sonny Kiss was also hilarious. As far as the match was concerned it was your typical battle royal where everyone was able to get their spots in. Jordynne Grace and Bully Ray were the final two as Grace made history by becoming the first woman to win the match. She has also already called her shot for the Knockouts Title at Hard to Kill in January.
Winner: Jordynne Grace
Impact Knockouts Championship: Trinity vs Mickie James: This was a dream match for many people, as these two have been close friends since their time together in WWE. However, this match did not click for me. The match at points was very slow and at times the match felt like it was dragging. The ending pin also looked awkward, but the embrace at the end between the two friends was nice to see. Trinity retains.
Winner: "And Still" Trinity
Impact World Heavyweight Championship: Alex Shelley vs Josh Alexander: This match was everything you could have expected. Hard-hitting and a huge back-and-forth between two of the biggest stars in Impact today. After the match, the two shook hands and embraced in a hug as they celebrated the end of an amazing match. I would have thought Alexander would have won due to his original title run being cut short, but with the announcement that happened after this match, the decision to keep the title on Shelley made all the sense in the world.
Winner: "And Still" Alex Shelley
Impact's Big Announcement: Before the main event started Matthew Rehwoldt and Tom Hannifan said they had a huge announcement about Hard to Kill that was going to end the show, but I don't think anyone expected this. The video package took us into the woods as multiple Impact stars rushed towards a pound where Frankie Kazarian was retrieving a box from the water. All the superstars talked about how much Impact has meant to them, but they are ready to take this to the next level and for that to happen they need to go back to their routes. Kazarian opens the box and a montage of the current superstars plays as old commentary footage from Mike Tenay and Don West talks about TNA wrestling. A graphic shows the TNA logo saying we're back with the first event being Hard to Kill on January 13th in Las Vegas. Back in Chicago Scott D'Amore is surrounded by TNA originals and screams, "We're f***** back" as the show goes off the air. As someone who watched the original TNA and that was the reason why I fell in love with all of this, let's fricken go!
Overall: Bound For Glory is actually one of my favorite shows of the year. No matter what matches are on the show it always delivers and this year's event was no different. I was disappointed that the Knockouts Tag Team Championship match was not on the show and it was moved to a Before The Impact segment. A lot of people were looking forward to this match and hearing it didn't make the card was upsetting. However, the announcement that TNA is coming back in 2024 is exciting and I can not wait to see what happens with that next year.
Bound for Glory 2023 is streaming now on

Fite.TV