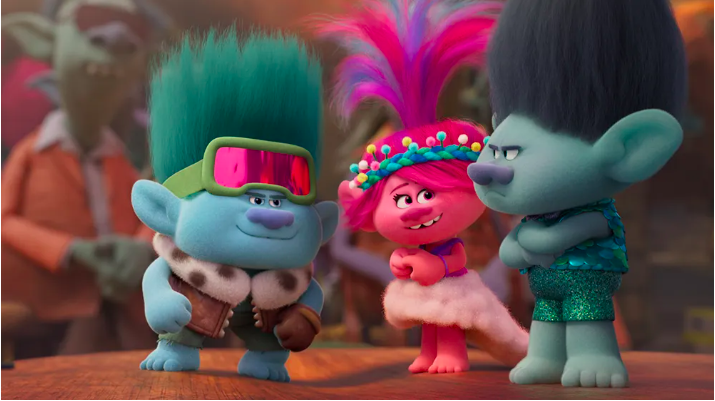 While some of the flaws of DreamWorks' Trolls films remain, Trolls Band Together –  the latest addition to the popular animated  franchise –  is the best entry yet. The film displays impressively imaginative animation, an irresistible heart and nostalgic music that audiences of all generations will enjoy. 
The latest adventure with Poppy (Anna Kendrick) and Branch (Justin Timberlake) finds them working alongside Branch's estranged brother John Dory (Eric Andre) – who reveals that Branch used to be in a family boy band called BroZone. Although Branch hasn't spoken to John Dory in quite some time, he must work with him to save their sibling Floyd (Troye Sivan) – who has been captured by two villainous pop star wannabes named Velvet ( Amy Schumer) and Veneer (Andrew Rannells). So, Poppy joins these two on a journey to find their other brothers, save Floyd, and hopefully perform the perfect harmony that drove them apart many years ago. 
Where Trolls World Tour was a little disjointed because of all the music genres it paid homage to, Band Together has a more focused vision. Like the first film, it's much more pop-focused and immediately instills these joyous vibes that are undeniably infectious. The opening sequence surrounding a wedding happening in Bergen Town is filled with ecstatic energy that wraps itself around you and features a great compilation of bangers that gets audiences in the right mood. From there, it delivers some fun covers that generally elevate the momentum and hook viewers into big scenes. The entire finale stretch with Velvet and Veneer is especially memorable for the music and despite a couple duds viewers might find, Band Together is a jukebox musical that wider audiences will vibe with. 
Where the film takes a bigger leap with its music though is its dedication to capturing the boy band genre. BTS' domination in pop culture, acts like Big Time Rush and The Jonas Brothers having a newfound resurgence, and NSYNC and The Backstreet Boys coming back into nostalgic relevance – The Trolls franchise has found the perfect time to show boy band music love. Band Together has something for  generations of boy band fans. Whether it's that pop-heavy sound that gravitates right to your heart or some of the fun jabs at the style and evolution of the genre, Band Together makes most fandoms of the genre feel seen. (There are even a couple surprises thrown in for good measure). Timberlake leading it all gives the film's homage to boy band culture an authentic backbone. The Trolls franchise plays with boy band culture incredibly well and it's what makes this entry stand out as a nostalgic treat for multiple generations of fandoms.
There's something very refreshing about this entry into the Trolls franchise as it brings back things missing from World Tour and it also realigns the focus of the film to Poppy and Branch's story. It's also fun to see characters like the Bergens return after being bizarrely absent in World Tour. When it comes to Branch's personal arc and the peek behind the curtain on his upbringing with his brothers, fans will feel much more emotionally connected to him and this new adventure. Plus, the voice cast is so charming and works cohesively together to create a humorous chemistry that fans want to be a part of. The mix of brotherly jabs at each other's egos and the eventual coming together is sweet and builds an easily likable story with some genuine heart.  
Despite the film being mostly Branch-focused, Poppy has her moments. Her spirit of adventure that comes from Kendrick's energy is great and it's fun to watch her obsess over Branch's boy band past. Admittedly though, Poppy is a big part of the film's storytelling issues since she's characterized in a way that takes away the sharpness of the narrative. Because she's so energetic and word vomits more than anyone, she often speaks too much about her feelings and ends up spoiling storylines way too early. The second she brings up wishing that she had some sort of sibling like Branch, it's obvious that this will be a part of the film down the line. It's like the film is blatantly speaking to audiences and it wipes away the sense of surprise the film tries to have at times. Now, it's not all on Poppy since other characters can do this too, but it's a problem this franchise has had since the beginning and it's a big reason why Poppy's personal arc and story-focus in this film is so weak. Still though, her dynamic with Branch is where the film's heart is at its strongest and these two are why these films can be very fun. 
Surprisingly though, the most impressive aspect of Band Together is the animation. DreamWorks hits new highs in inventiveness and creativity. The studio has been reinventing themselves lately and testing out new animation techniques and it's ultimately been something that has worked well for them in establishing a new identity and strength in a talented and crowded animation space we're currently in. And Trolls: Band Together is a testament to that. The variation of textures and techniques seen throughout is incredible and there are some visuals and designs that'll literally cause your jaw to drop. From realistic objects being used in creating characters and settings to a hypnotically colorful sequence that maxes the psychedelic sounds of Van McCoy's "The Hustle," DreamWorks delivers some mesmerizing animation here. It's honestly so good that fans will desperately want to see behind the scenes to see how they did some of this stuff and Band Together is one of the most visually stunning animated films of the year. 
Trolls: Band Together might carry some of the shortcomings of the previous films when it comes to storytelling, but it heavily impresses in nearly every other aspect. Its remarkable animation is matched with crowd-pleasing musical fun that all ages can enjoy and acts as a strong entry for the Trolls franchise that might signal a comeback for DreamWorks. 
Trolls Band Together hits theaters nationwide on November 17.