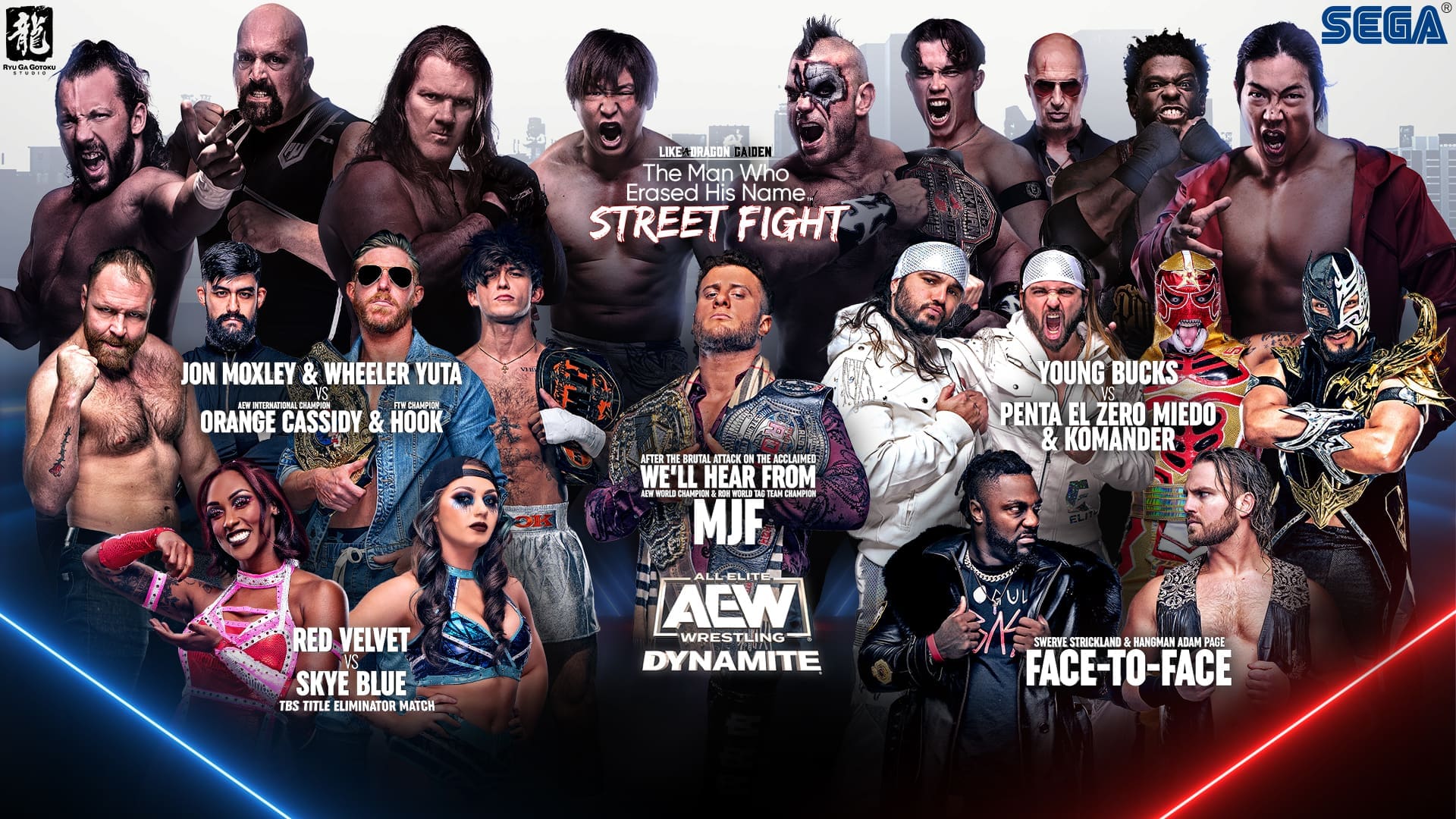 No one listens to me anyway, so I'll say this before we get to the review. Trolls online whine and complain matches need to all have stories or build or anything more than three weeks notice. Let's throw back to the 80's and 90's. Yes, even into the fabled "Attitude Era." All PPV matches were booked first, and then the feud built up from that. On occasion there would be an established contenders match for a championship, but there was no build, and zero feud until the match was announced!
Most matches on WWF/WWE Monday Night RAW, including the main event had no premise, no build, no nothing. You were told maybe two or three matches at the top of the show, and the rest you just sat back and waited for. Some of which were jobber bouts with enhancement talent! You might get three or four actual draw matches, and the rest was filler! Most of you are too young or weren't even born to know the agony of having to watch The Beverly Brothers, Damien Demento, The Repo Man, or The Steiner Brothers make mincemeat of the likes of Duane Gill, Barry Horowitz, "Iron" Mike Sharpe, Jim Brunzell, and Jim Powers. 
How many times did we see Val Venis vs. Hardcore Holly or The Godfather for no reason. The Attitude Era was chock full of unannounced and no-hype bouts. 
Get over it folks. Find another reason to spite AEW. 
The final Dynamite before Full Gear kicks off with a pretty epic tag match. Jon Moxley and Wheeler Yuta defeating Orange Cassidy and Hook. I have to say, Hook wins MVP of the match. The purpose of the bout is to establish concern whether Cassidy can be a challenge to Mox. In a surprise, Hook took both Wheeler and Mox to town with suplexes, and even locked in the Tazmission on Mox. Cassidy's punch was ineffective as Mox drops Hook with the Death Rider, followed by Yuta using the Straightjacket for the pinfall. 
Cassidy is overly painted as the uber-underdog, so I have to wonder if this is setting up for the upset of the year. Mox doesn't really need the championship at this point either, so not sure if a title change will accomplish much. 
Hangman Adam Page / Swerve Strickland segment – Tony Schiavone announces per Tony Khan, if they fight tonight, they will be suspended and the match called off!
Hangman took total control on the mic, with Swerve being left speechless. Hangman made it personal by referencing Swerve being fired by WWE, plus his girlfriend and kids leaving him. Then took a jab at Prince Nana by threatening to beat him up and steal his weed. This gets a "steal his weed chant."
Hangman laid a beatdown on Prince Nana before security could intervene, with Swerve powerless. A bit strange not to let one of their best retaliate on the mic, but I understand the need to give Page time to be more of the aggressor than the victim. 
Skye Blue defeated Red Velvet
Much better match than anticipated. It was fairly clear Blue would win, but Velvet didn't make it easy for her. I wonder though if they are going to get the TBS Championship off Statlander, for whatever reason, but with Julia Hart pinning Skye Blue or vice versa.
Samoa Joe defeats Jon Cruz
I'm dead. I can't. 
I almost died during this match. This was a squash but with some charismatic shenanigans. Just watch the embedded clip below. 
NOPE!

Watch #AEWDynamite LIVE on TBS!@SamoaJoe pic.twitter.com/0nKDSLFrBu

— All Elite Wrestling (@AEW) November 16, 2023
In case for some reason you don't get it… Joe does his typical walk away move, but with Cruz flabbergasted. I couldn't stop laughing. This by far was the best reaction ever. 
Backstage: Mariah May meets Toni Storm
The change to vintage style audio and picture was spot on perfection. The quick blip when Luther answered to RJ City's change in voice. That's the stuff which makes Storm's gimmick fantastic. I wasn't a fan of May's over the top gawking. 
The Young Bucks defeated Penta El Zero M and Komander
Fast paced spot-fest, but this is what one can expect from both teams. This is not a bad thing, but this is something of a predictable nature at this point. Bucks losing was not an option. This is a bad thing when again, too many matches with a predictable outcome. Some pretty cool spots though, can't deny that. 
The path to returning as full-fledged heels continues with Nick Jackson striking both opponents with overt low blow punts, followed by a fantastically fluid Judas Effect. BTE trigger wins, and the hometown crowd boos their once-beloved heroes. 
Heel Bucks are Big Bucks. You love to hate them, so you get what you wanted. 
The Gunns defeated Peter Avalon and "Watts"
No idea who the second guy was, only identifiable with the name "Watts" on his trunks. The match lasted second as they scored 3:10 to Yuma on the unnamed soul. A repetitive promo from the Gunns, which could have been easily summed up as "We're gonna win the championships." 
Really folks, would any challenger state they don't plan on winning a championship? If so, I'd love to hear it. 
"LIKE A DRAGON GAIDEN STREET FIGHT" Kenny Omega, Kota Ibushi, Chris Jericho, and Paul Wight defeated Konoske Takeshita, Will Hobbs, Kyle Fletcher, and Brian Cage
Cue up the highlight reel. A wonderful blend of fierce wrestling and comedy spots. Sorry all you Cornette fans, but I like a bit of humor in my wrestling. The fighting out of the gate was brutal. Wight destroyed Fletcher by chokeslamming him through a table to the floor. He then fought to the parking area with Hobbs, where the younger wrestler managed to body slam the veteran on top of a car, and effectively took him out of the match. Let's be honest though, Wight wasn't going to participate a whole lot, but what he did do was damn impressive. 
Cage does some freaky stuff, and him suplexing Omega off the top turnbuckle through tables was jaw droppingly insane. 
Brian Cage with a horrific suplex to the outside of the ring!

Watch #AEWDynamite LIVE on TBS!@IAmJericho | @KennyOmegaManX | @ibushi_kota | @PaulWight | @TheDonCallis | @briancagegmsi | @takesoup | @kylefletcherpro | @TrueWillieHobbs pic.twitter.com/MT2fqDo1wG

— All Elite Wrestling (@AEW) November 16, 2023
Omega busts a bottle over Fletcher's head, and I don't think it was one of those fake "sugar glass" bottles. Omega's hand cut wide open. Fletcher and Omega traded painful looking suplexes. It was brief, but we did get Takeshita and Ibushi facing off. That's the one on one I want to see in the future. 
But we got IBUSHI ON A BIKE!
Kota Ibushi!

On a bike!

With a pipe!!!

Watch #AEWDynamite LIVE on TBS!@IAmJericho | @KennyOmegaManX | @ibushi_kota | @PaulWight | @TheDonCallis | @briancagegmsi | @takesoup | @kylefletcherpro | @TrueWillieHobbs pic.twitter.com/0N2HTYQoyX

— All Elite Wrestling (@AEW) November 16, 2023
Later on, Fletcher nearly commits murder on live television with a horrific tombstone piledriver through chairs. 
Kyle Fletcher brutally piledrives Kota Ibushi into a pile of chairs!

Watch #AEWDynamite LIVE on TBS!@IAmJericho | @KennyOmegaManX | @ibushi_kota | @PaulWight | @TheDonCallis | @briancagegmsi | @takesoup | @kylefletcherpro | @TrueWillieHobbs pic.twitter.com/refxXE9Qop

— All Elite Wrestling (@AEW) November 16, 2023
That's a broken C2, C3, C4, C5, and you just sunk my battleship! Fletcher almost had the win for his team, but it was not to be. Omega and Ibushi somehow managed to power back, getting revenge by duct taping Hobbs to the ropes and bashing him with a chair. Cage attempted a save, but wound up being spiked with a Poison-Rana, followed by a One Winged Angel to celebrate the birth of a child, just days ago. Kudos to Cage. But, I'm betting mother is a bit miffed. 
With Omega and Ibushi standing tall to close out this portion of the feud, I wonder about Omega and Jericho's chances at the PPV against the Young Bucks. Realistically, those two were not likely going to team again once their business against Don Callis is over. Making it a stipulation raises some eyebrows though. With Ibushi now officially signed to AEW, the chances of The Golden Lovers together just skyrocketed, which means Jericho is likely to turn on Omega or simply part ways. 
What happens next for the Callis family is a bit of a conundrum. Sammy Guevara is out, Will Ospreay is busy for a while, leaving the stable a bit of a mess. 
MJF Segment
This was as expected, MJF cutting another passionate promo about defeating Jay White and apologizing to all those who were casualties along the way. Bullet Club Gold inevitably interrupts and lays out the champ to close the show. Again, White casts doubt on who is wearing the stolen Devil mask. 
It could be one of a few ways, it could have been Jay White all along. Or it could be Roderick Strong. Or Adam Cole. Or Danhausen. Maybe someone we haven't seen in a while, like Kyle O'Reilly or Bobby Fish. The list can easily grow long, but I hope it's not someone we don't care for. If they pull a Shawn Spears or Jack Perry, it'll be a letdown. Spears wouldn't be a terrible pick, but it's been hyped so much it has to be someone of main event caliber. 
What adds to the confusion is knowing MJF has way too many potential opponents in the near future. Wardlow, Joe, Roddy, and probably Danielson before he hangs it up. We have a lot more wrestling coming on Friday, with both Collision and Rampage as live shows. They already announced sit down interviews with MJF and White, so while this capped off the go-home Dynamite show, this is not the send off for the PPV.
Seems like there might be more to come for Full Gear. I do hope AEW and Tony Khan know what they are doing. On paper this looks like a solid PPV, but for some strange reason this time, I am feeling a bit more cautious about this year's Full Gear.
AEW Dynamite 11/15 is now streaming on the TBS app and on demand.