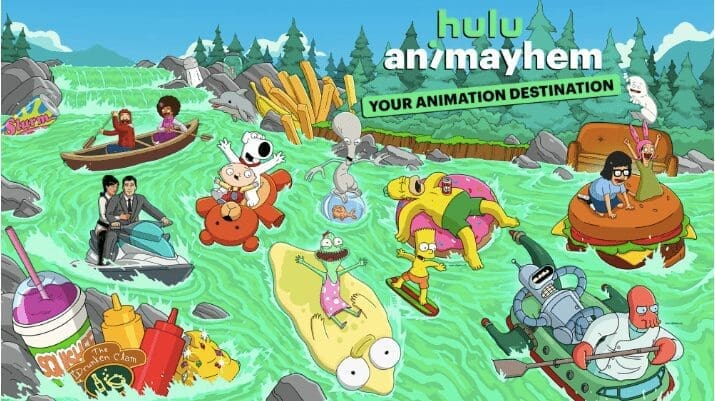 Last year, fans rejoiced as they learned Hulu would be resurrecting Futurama, the beloved cult series created by Matt Groening and David X. Cohen will be returning for a 20-episode run. Futurama joins Family Guy, Bob's Burgers, American Dad, The Great North, and Solar Opposites as part of Hulu's new Animayhem lineup, cementing the steamer as a true destination for fans of animated comedies.
At this year's San Diego Comic Con, Hulu put out all the stops to show off their upcoming impressive lineup of shows and the addition of Futurama with a massive activation that truly brought fans into the world of their favorite 2D shows.
When you enter the experience, fans are given an exclusive pin set. We received a Solar Opposites set, which was also the first stop after the "Enter the 2nd Dimension" photo opp that started the activation. The first room surrounds you with everything Solar Opposites, with life size replicas of items and characters from the series.
As you make your way to the next room, you are greeted with a hall of Rogers from American Dad. We walked through the hall of Rogers to get to the next space, a big, dark, room dedicated to The Great North. In this room, you can ask yes or no questions to a projection of Alanis Morissette, who plays herself in the animated series from the producers of Bob's Burgers.
At the halfway point, we walked into an outdoor area where we were offered coffee and tea while getting a chance to sit and watch clips of the shows or answer trivia questions on a big screen TV. They also had a 360 degree video booth where you can time travel like Stewie and Brian from Family Guy and a replica of Bob's Burgers complete with actual burgers and fries to eat while taking photos with 2D cutouts of the characters.
The final stop on the tour was a huge replica of Planet Express from Futurama complete with photo opps that made you feel like a part of the crew. We exited the experience, but not without receiving a 2D backpack and another pin set. If you're looking for great comic con swag and tons of photo opps, don't skip the Hulu Animayhem experience.