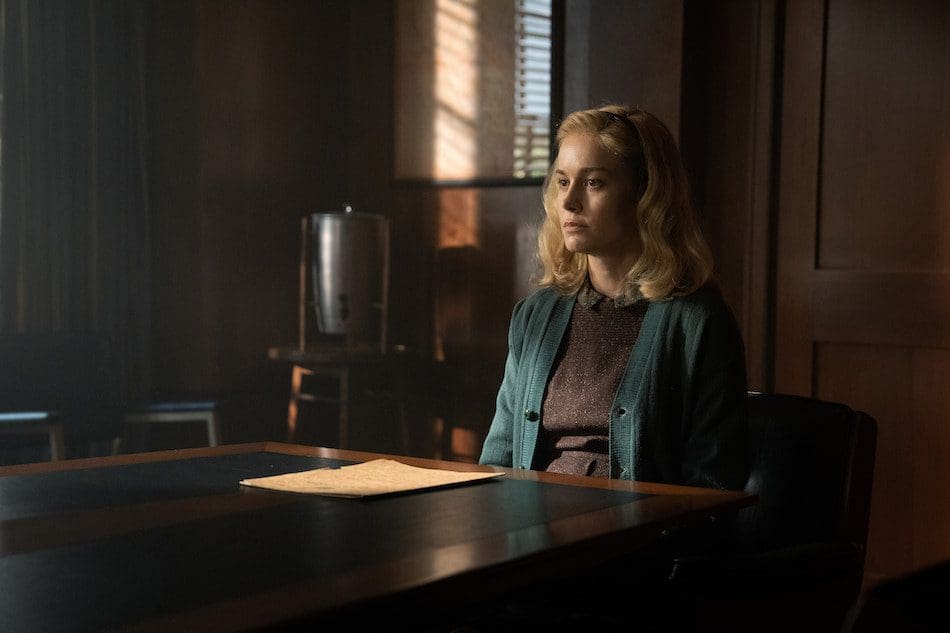 Much like it was not hard to be a fan of Lessons in Chemistry when Bonnie Garmus' book was released back in 2022, it is equally not hard to be a fan of the limited series recently released by Apple TV+. While the overall storyline rings true to the source material, readers will find a few crucial changes have been made in the adaptation to the small screen. That being said, this review will attempt to be mostly spoiler free.
Elizabeth Zott is a woman like no other – seemingly beautiful in every way and ridiculously smart to boot! While Brie Larson would not have been a personal first choice based on how yours truly originally envisioned the character, she has proven to be an excellent representation of feminism and bravery in a time where women dealt with a barrage of misogyny and sexism, especially in the workplace, and most especially when that work was within the realm of science. While Calvin Evans was never going to be a character with significant screen time, he is of significant importance to the story and Lewis Pullman did an excellent job bringing him to life. Thanks in large part to a few key changes to the original story, the brief romance portrayed by Larson and Pullman is both believable and gut-wrenching to watch unfold over the course of the first two episodes.
The decision to focus less on their character traits of being determined, driven and dedicated to being the best at everything they set their minds to, as seen through the original rowing team storyline, is because the show decides instead to focus on how well the characters learn from each other and trust each other, which is made apparent through Calvin teaching Elizabeth to swim.
One of the best changes in this show is the overhaul made to Calvin's neighbor, Harriet Sloane (Aja Naomi King, How to Get Away with Murder), who instead of being a nosy, love-scorned old woman, is now a no-nonsense attorney/civil rights activist and mother of two, who is happily married and fighting for equal rights for her community. This change allowed for not only a more diverse cast than was originally portrayed in the novel, but also a deeper look into the social commentary and movements diverse communities of the 1950s and 60s faced. Both Elizabeth and Harriet have moments within the first few episodes where they stand in their power and stand up to the oppressors of their time, making headway for other women to follow in their footsteps.
Another big change that is great to see is the fact that Calvin respected Elizabeth's wishes and did not propose to her. Readers of the book will remember that despite Elizabeth voicing her thoughts on marriage, Calvin still attempts to propose, which leads to one of their biggest arguments. Ultimately, they compromise and Elizabeth moves in, but the point was still made that respecting people's boundaries on marriage and family can somehow be overridden because of love. In the show, Elizabeth so effortlessly points this out when she says she would have to decide between having a life of her own or becoming a housewife and a mother. The show instead forgoes the argument by simply having Calvin ask Elizabeth to move in, with no promise of marriage or children or anything other than time spent together and a few home cooked meals – as insisted upon by Elizabeth.
While the majority of changes seen so far in the show shouldn't impact the trajectory of the storyline as we know it, it will be interesting to see how certain elements play out. Specifically, how much internal dialogue we get to see from Six-Thirty, the stray dog turned family member of Elizabeth and Calvin's. In the book, readers get a unique insight into the lives and emotions of the Zott/Evans household through the first-hand account of Six-Thirty.
While they surprised us in the third episode with a little narration of his thoughts, brought to life by the one and only BJ Novak, a quick glance at the IMDB page indicates this is only the case for one episode. Which means it will be up to the writers to portray the emotions and information we as viewers are able to glean from the characters without our favorite furry narrator. That being said, this writer is looking forward to the remainder of this series – if it is anything like Elizabeth's cooking show, Supper at Six, it's certain that we'll all be hungry for more!
Lessons in Chemistry is now streaming on AppleTV+